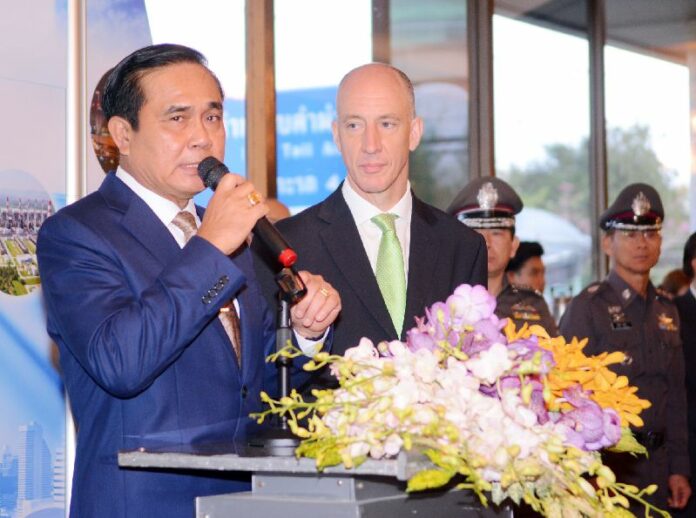 BANGKOK — Junta chairman and Prime Minister Prayuth Chan-ocha has assured the nation that he does not intend to stay involved in politics after democratic rule is restored in Thailand, despite dismissing a proposal that would have him and other junta leaders formally banned from office for two years.
"I don't want anything," Gen. Prayuth said today in a keynote speech for an event promoting transparency in state projects. "This has nothing to do with self-interest. I and other ministers aren't gaining anything … I have no intention to perpetuate my power or self-interest. If I thought like that, I wouldn't have come to work in these matters."

Gen. Prayuth speaking at the Construction Sector Transparency Initiative event in Bangkok on 6 March 2015.
However, Gen. Prayuth also repeated his opposition to a plan proposed by one of the drafters of the new constitution that would bar members of all five interim governing bodies, including the military junta, from politics for two years.
"Don't worry about the Five Rivers, about who will go, who will stay," Gen. Prayuth said, using a nickname for the five agencies. "I will stick to the interim charter, and I will give verdict on this issue. Please don't mix things up and make them contradict each other. Otherwise, the country won't go anywhere."
Gen. Prayuth was referring to a clause in the interim charter, penned by the junta after the coup, which only bans members of the Constitutional Drafting Committee from politics after the new constitution is enacted, and not the junta or its appointed councils. CDC member Jate Thonawanik proposed this week that the restriction be extended to all five interim governing bodies.
The Fiver Rivers agencies include the Cabinet, the National Legislative Assembly (NLA), the National Reform Council (NRC), the Constitutional Drafting Committee (CDC), and the junta itself, which is known officially as the National Council for Peace and Order (NCPO).
Speaking at the event co-chaired by UK Ambassador Mark Kent today, Gen. Prayuth went as far as suggesting that he is willing to resign from his position if that is what the people want.
"Who doesn't like my face, go ahead and tell me, so it will be over once and for all. If the people don't want me, I won't stay any longer," Gen. Prayuth said.
Gen. Prayuth has consistently cast himself as a reluctant coup maker who was forced to seize power from an elected government last May for the sake of the nation. However, in same speech this morning, Gen. Prayuth also vowed not to resign from his post until he has achieved "success."
"I have been trying to say and order things carefully. Some nights I've even dreamt that I gave orders. I had to think later, did I really give those orders? I admit that I am tired, but I can still fight. Don't think that I will go anywhere just because I am tired. No way. I won't leave until there is success. I wouldn't know why I was here in the first place if I cannot create success [for the country]," the general said.
"The other day, some reporter asked me what the government has done so far," Gen. Prayuth continued. "I almost punched that reporter in the face. I have done so many things, can they not see it? I will keep talking about what I have done. I am willing to be tired and hurt my throat."
For comments, or corrections to this article please contact:[email protected]
You can also find Khaosod English on Twitter and Facebook
http://twitter.com/KhaosodEnglish
http://www.facebook.com/KhaosodEnglish