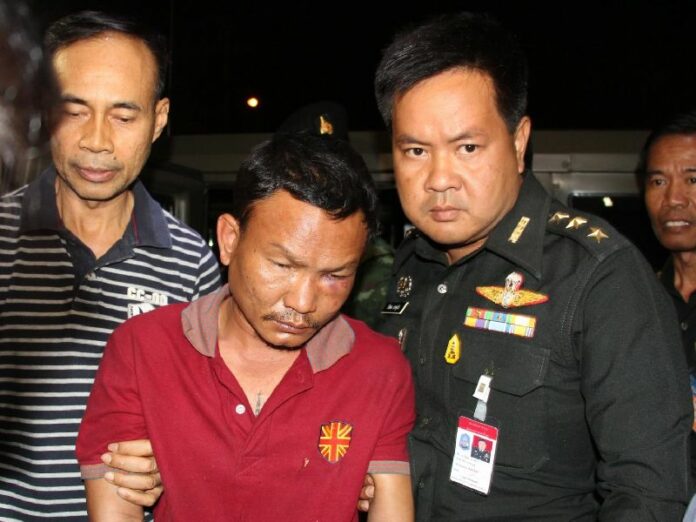 BANGKOK — Thai police say they believe the grenade attack on a court house in Bangkok on Saturday was connected to the twin bombings at a luxury shopping mall last month.
Thai police commander Pol.Gen. Somyot Pumpanmuang said today that police believe both incidents were politically-motivated and perpetrated by "people who have opposing views or political disputes, with the aim of creating a situation of chaos, disorder, and violence."

Police inspect the parking lot of the Criminal Court in Bangkok where a grenade was launched on 7 March 2015.
The hand grenade thrown at the Criminal Court in Bangkok on Saturday night, which did not cause any injuries, came a month after two pipe bombs exploded near the BTS skytrain by Siam Paragon shopping mall on 2 February, slightly injuring one person.
Four suspects are currently in military custody in connection with the grenade attack. The military says there is evidence linking them to the Redshirt movement, which supported the government toppled by the military last May.
No one has been arrested in connection with the Siam Paragon bombing, but Pol.Gen. Somyot said today that police have identified suspects behind incident and are planning an arrest.
"I cannot say when we will arrest them and I cannot tell the media where the suspects are, because this concerns a police investigation, which cannot be revealed to the press," Pol.Gen. Somyot said.
He also said that the explosives in the Siam Paragon incident were similar to pipe bombs police believe were used by Redshirt-allied militants to attack anti-government protest sites in 2014.
"People who share similar ideas tend to have similar methods and practice in the same direction," said Pol.Gen. Somyot. "There is evidence that these individuals were connected to each other."
Police were initially reluctant to say whether the Siam Paragon bombing was politically-driven, but Pol.Gen. Somyot said today that all other motives have been ruled out.
"It is what the police are suspecting," Pol.Gen. Somyot said when asked if police have concluded that the attack was politically-motivated. "Because there are no other motives. I don't know what kind of interest drove them to plant a bomb or cause violence and confusion at this time. But I do not think there is another motive other than what the police are suspecting."

Police inspect the site of two bomb blasts near a luxury shopping mall entrance in Bangkok, Thailand, 02 February 2015.​
He also downplayed reports that one of the alleged grenade throwers arrested at the Criminal Court said his group planned to stage 100 attacks around the capital city on 15 March.
"I don't know how many targets they intend to bomb," Pol.Gen. Somyot said. "Those are just words from the suspect. We do not know if they are true. However, we have never let our guard down. Therefore, we are giving importance to every major venue that we suspect could be a target of terrorists."
The police chief added, "If the bombs do happen, you have to ask the bombers, what do they want from it? Are they happy to plant bombs at a time when the country is moving forward under the government's road map?"
Thailand's military junta, which seized power in a coup d'etat on 22 May 2014, has used martial law to suppress dissent and ban political activities of any kind while it oversees a national reform effort. Junta leaders say an election will be held in early 2016, provided that a new constitution has been finalized and the political climate is deemed stable.
Related coverage: