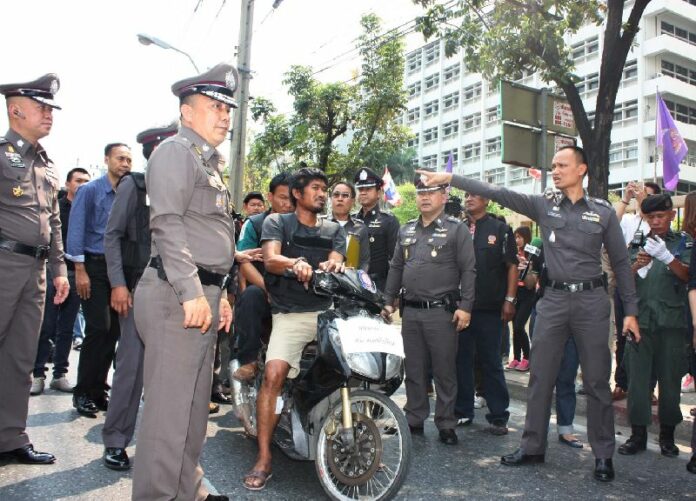 BANGKOK — A Thai junta spokesperson has denied that four men were tortured in military custody last week, and threatened to take legal action against those who spread the allegation.
The Thai Lawyers for Human Rights Center released a statement yesterday accusing the military of torturing the four men, who were recently arrested in connection with an alleged "terrorism network" that plotted to stage bomb attacks in Bangkok.

Soldiers patrol the Criminal Court in Bangkok, where a grenade exploded on 7 March. 16 March 2015.
According to the lawyers, the four suspects were tortured into making false confessions by military officers from 9 – 15 March, when they were held for interrogation at an army barrack.
Col. Winthai Suwaree, spokesperson of the junta, said he has investigated the claim and determined it to be "untrue."
"Such information is intended to distort the facts and damage the credibility of security officers," Col. Winthai said. "We may further investigate the suspects who provided this information, or certain ill-intentioned individuals who are trying to spread such false information."
He added, "Our legal team may be involved in the investigation into the details."
The four men, identified as Sansern Sri-unruen, Charnvit Jariyanukul, Norapat Luepol, and Wichai Yoosuk, have been accused by police of participating in a plot to "create chaos" and draw an intervention from the United Nations by staging bomb attacks around Bangkok.
Police say the same network was responsible for the grenade attack at the Criminal Court on the night 7 March. No one was injured in the explosion, which caused minor damages to the court's parking lot.
At least 17 arrest warrants have been issued in connection with the case so far.
One of the four suspects, Sansern, told Prachatai news that he was slapped, punched, and kicked by soldiers during the interrogation. He also showed burn marks on his legs that he said were from elecotrocution, which military officers reportedly applied "30-40 times" becasue he refused to confess.

Sansern Sri-unruen shows traces of alleged electrocution on his leg applied by soliders [Prachatai].
However, Col. Winthai argued that there was no reason for the military to coerce suspects into confessing, as confessions obtained through informal interrogation do not have any binding effect in court.
"The information obtained at that level [of interrogation] is only used for preventing and deterring [violent] incidents, in order to restore peace and order in society so that there won't be any further violence," the spokesperson explained.
"When the military transfers detainees to the police, there are physical check-ups that are clearly documented as evidence. No one can distort those facts. I insist that security officers proceed with everything in accordance with the laws and international principles. Such accusations amount to listening to one side of the story and accusing the officers, which contradicts with the legal profession. Lawyers should investigate the facts clearly first."
The four men have been charged with premeditated murder, causing an explosion that potentially harms other individuals or properties, illegally possessing war weaponry, possessing and using firearms and ammunition without permit, carrying weapons into residential areas without due cause, and using firearms in residential areas without due cause.
Under martial law, which was imposed by the junta after it seized power from an elected government in May 2014, security officers can search properties and detain individuals for up to seven days without court warrants.