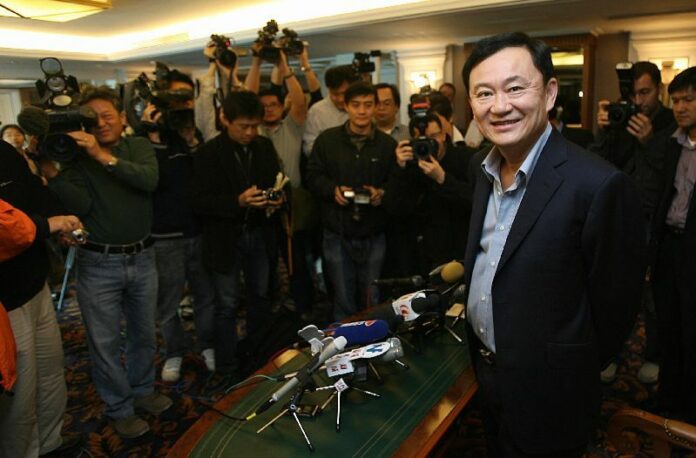 BANGKOK — The leader of Thailand's military junta has vowed not to arrest fugitive former Prime Minister Thaksin Shinawatra if he is spotted at the funeral of Singaporean's founding leader Lee Kuan Yew next week.
Close aides to Thaksin have told a number of media agencies that the former Thai PM will attend Lee's memorial service on 28 March, a day before junta chairman and current Prime Minister Prayuth Chan-ocha is scheduled to arrive in Singapore for the state funeral.
Thaksin, the de facto leader of the Redshirt movement, was ousted in a coup in 2006 and is living in self-imposed exile to avoid a corruption conviction over a land purchase.
When a reporter asked Gen. Prayuth this morning about the possibility of encountering Thaksin at the funeral, the general snapped back, "It's his business. How will it affect me? … I don't have anything [against him]. And I cannot go arrest anyone on my own anyway. He will attend the funeral on his own. It's up to him. Please don't write news that mixes up the issues."
Although Thaksin has not returned to Thailand since 2008, he has continued to influence politics from abroad and commands a strong following among Redshirts in the country's northern and northeastern provinces. Thaksin's sister, Yingluck Shinawatra, led the Redshirt-back government toppled by Gen. Prayuth in the May 2014 coup.
Critics of Thaksin, who loathe him as vehemently as the Redshirts love him, often compared Thaksin to Lee Kuan Yew because of their perceived similarity as elected autocrats.
A spokesperson of the military government, Maj.Gen. Sansern Kaewkamnerd, confirmed today that Gen. Prayuth will not attempt to arrest Thaksin if the two meet in Singapore.
"If he does meet Police Lieutenant Colonel Thaksin, we cannot arrest him immediately, because it is a foreign space," Maj.Gen. Sansern said. "And it will be in a period of mourning, so that would be inappropriate."
Gen. Prayuth told reporters this morning that he planned to pay respect to Lee, who died at the age of 91 on 23 March, because he personally admired how the former Prime Minister developed Singapore over the course of 50 years.
"But Thailand is still at the same place 50 years later because we have been too busy fighting each other," Gen. Prayuth said. "Lee Kuan Yew once wrote that all the things he thought about and did were for the sake of Singaporeans. He didn't use any theories or any democratic theories. He only thought about how to move Singapore forward. He didn't use anything about democracy to lead the way."