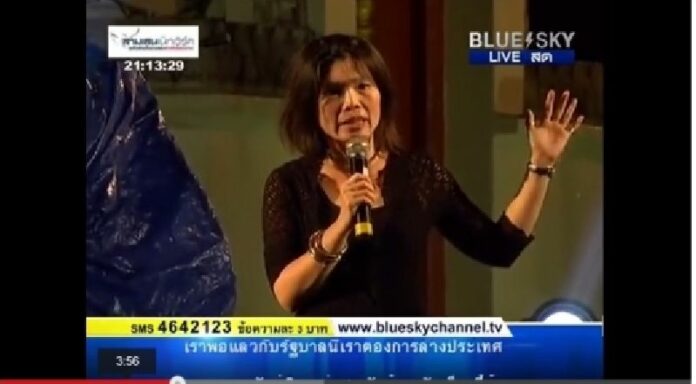 BANGKOK — Thai junta chairman Gen. Prayuth Chan-ocha says he is considering replacing martial law with Article 44 of the interim constitution, but has refused to provide any details about if and when this transition will occur.
The proposal, announced on Friday, has already come under fierce criticism from politicians, legal scholars, and human rights groups who warn that the clause will grant the junta chairman even broader powers than those prescribed under martial law.
Under Article 44 of the interim constitution, Gen. Prayuth will be able to issue any order to "disrupt or suppress" an act that threatens to undermine national security, the monarchy, the economy, or the "administration of state affairs." These orders will by definition be considered "legal, constitutional and conclusive," the article states.
Below is a transcript from Gen. Prayuth's press conference on 29 March after he returned from the state funeral of Lee Kuan Yew in Singapore. The questions were asked by Somjit Nawakruasunthorn, a Channel 7 reporter who particpated in the anti-government protests that preceded last year's coup.
Somjit: When will you impose Section 44?

Prayuth: It will happen when it does.

Somjit: The NHRC [National Human Rights Commission] suggested the government reconsider the use of Section 44.

Prayuth: Go tell the NHRC to take care of the country and make it peaceful. They can't even do that. In the past, both the Internal Security Act and Emergency Decree have been used, but could they do it? That's why we have [this situation] today.

Somjit: Do you think Section 44 will help the situation become more orderly?

Prayuth: I will do anything that helps the country be peaceful and orderly.

Somjit: Will Section 44 draw more pressure from the international community?

Prayuth: The main focus should be on the people inside the country. Today, people in the country have suffered long enough. Don't make us fight anyone again. Take some responsibility. Ask me about things that are more essential.

Somjit: Many people are concerned about the economy. What do you want to say to the people?

Prayuth: We are working on everything. We are working more than the previous government that you liked. Problems occur in different levels. But I will not blame anyone, and I will do my best. In the past, we let them grow rubber in national parks. Therefore, the rubber price will never be better than now. We need zoning. I will do it in my time … Why are people like Lee Kuan Yew heroes? It doesn't mean I want to be one, but I want to use his wisdom. Why is he a legend? During his lifetime, the country started as poor and had a lot of suffering. It wasn't developed like it is now. The people were forbidden to do this and that. But today, 30 and 50 years later, that country has so much …

[Gen. Prayuth cuts off Somjit as she prepares to ask another question.]

Prayuth: Listen to me Somjit, listen. Learn to listen. Don't act like representative [of some groups] with me. I am not angry at you today, because I want to calm my spirit after the funeral of Mr. Lee Kuan Yew. You should think if you plan to have children and grandchildren in the future, Somjit. I will do it for them. I am not doing it for you.

Somjit: So, in your opinion, is the Singaporean regime is suitable for Thailand?

Prayuth: I didn't say that! I only said, [let's] only bring their good examples to use in our country. Don't do this to me again. I have warned you many times. Enough. I will not answer any more of your questions. Anyone else? No one here has anything on their mind?

Somjit: I would like to ask a final question. After the new constitution is released, will you take any positions in the new organizations?

Prayuth: I want to solve problems first, then we'll talk about it. Never mind, you can ask me, I am not angry. I am not angry. Do you want the country to develop and be safe? Or do you want us to live like this? It's up to you. When the time comes, I may ask the people what they want. Ask them. Go help me ask them, Somjit. Use your newspaper [sic] to ask them what they want. Do they want democracy, elections, and unlimited freedom? Go ask them. And I will see what I can do. Anyone else?

Somjit: Isn't it better if the government just does referendum on that?

Prayuth: A referendum is for the constitution. Hey, you keep pestering me. Go ask them. This is not my business. Okay? Why? There is martial law, but does it trouble you? Answer me, reporters. Are you troubled by it? Has anyone put you in jail? You keep criticizing me, but has anyone done anything to you?

Somjit: It's not only about people being troubled, but also the international community is pressuring–

Prayuth: What international? Listen to me. Today I met all the leaders. Former president Clinton, [the Prime Minister of] Japan, South Korea. Everyone. They expressed congratulations that Thailand is peaceful. None of them criticized me. But some of our people, they make them say that we have to do this, do that. I ask you, why are we letting them force us to do things they order? If you let them force us, can you follow their rules? Have you ever done that? The UN, IUU, Somjit has to ask them first, then I will answer you.

Somjit: If the government has not been pressured about martial law, then what drove you to think about swapping [martial law with Article 44]?

Prayuth: I have not changed anything. But since you keep asking me every day whether I will change it, I will change it for you. That's all. And have there been any changes so far? No, there have not. I am not afraid of anyone. Why do I have to be afraid? I do things for the Thai people. You are not a Thai person, so don't bother me. Who's Thai here? Raise your hand. [Some reporters raise their hands] Thank you.
As Prayuth left the scene, he loudly asked officials, "Which reporters asked about the martial law? There was one man and one woman. I will order the NCPO to see whether they have been troubled by martial law."
NCPO is an acronym for the junta's formal name, the National Council for Peace and Order.