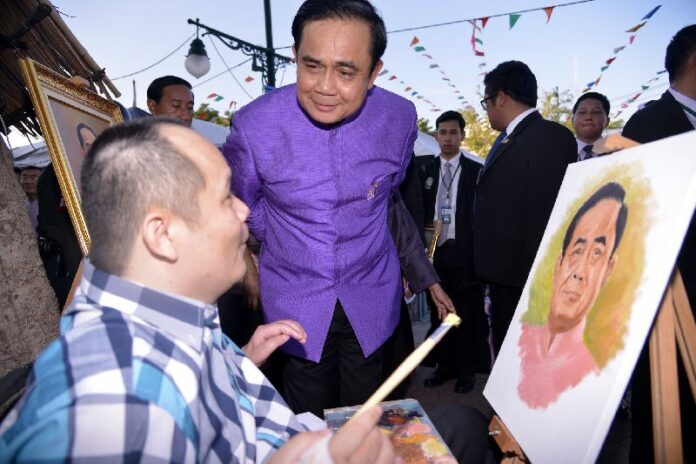 BANGKOK — Thai government officials will host new detailed press briefings every week to ensure that reporters "accurately" cover the government's works, junta chairman Gen. Prayuth Chan-ocha said today.
Starting next month, officials other than Gen. Prayuth will host the press conferences every Tuesday after Cabinet meetings.

Gen. Prayuth Chan-ocha speaking to reporters at the Government House, 31 March 2015.
"We want to explain to media, and we want to create understanding between the state and the media to avoid any mistakes," Gen. Prayuth said.
He called the sessions a "request for cooperation" that reporters are expected to dutifully attend.
"Every time we will ask for your cooperation on Cabinet meeting days, we will write down all of reporters' names, like in classrooms," he said. "I will really do this. I am not joking."
Gen. Prayuth also said officials other than himself will brief reporters because "if you only listen to me, you will only get general topics for the news. This is not any adjustment of news tactics of the government. I just want to let other people explain things to you. I have been talking on my own for a long time."
Gen. Prayuth, who seized power from an elected government in a coup on 22 May 2014, is notorious for his unpredictable and often heated exchanges with the press. He rarely speaks from a script, and often launches into tirades against reporters for criticizing his administration.
After the coup, the general imposed an order that forbids media agencies from publishing any news that may cause "divisions," "confusion," or incite violence in the country.
In today's press conference, Gen. Prayuth stressed that the new press conferences should not be seen as an attempt to intimidate the media.
"I don't want to control the media, because I know I cannot control it. You are so powerful," Gen. Prayuth said. "And it is not an ice-breaking activity between the state and media, either. At this age, I think there's no more ice to break. You are not children. I only want you to understand the government."
Gen. Prayuth also announced that he will cut back the air time of his weekly televised speech from approximately one hour to "20-30 minutes." The show, titled "Returning Happiness to People in the Nation," will also feature different Ministers who will explain about their works, the Prime Minister said.
"I have talked for hours, I am tired," Gen. Prayuth explained.