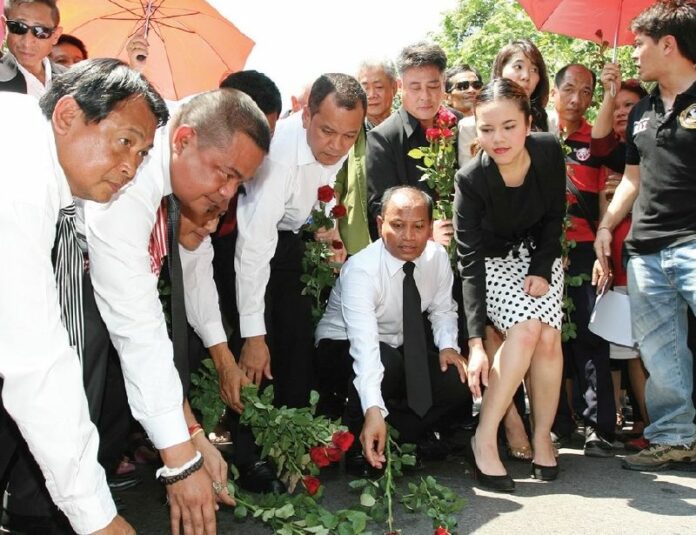 BANGKOK — A top Redshirt leader says he will comply with the junta's orders to scale back an event planned for Friday to commemorate the Redshirt protesters who were killed in the 2010 military crackdown.
Jatuporn Prompan, chairman of the United Front of Democracy Against Dictatorship (UDD), said the UDD will move the merit-making ceremony from Plub Pla Chai Temple in the historic quarter of Bangkok to Kerd Kan Udom Temple in Pathum Thani province. In addition, no UDD leaders will attend the ceremony, which will only feature 10 monks, instead of the original 53.
"The ceremony will be simple. No speeches. No politics," the UDD chairman said. "There will only be chanting in memory of those who died. After the ceremony is over, everyone will disperse and go home."
Earlier today, the deputy chairman of the military junta,
Gen. Prawit Wongsuwan,
asked the group to cancel the ceremony in compliance with the junta's ban on political gatherings.
"I am asking for cooperation: don't organize any event during this time, because I don't want it to become a conflict," said Gen. Prawit, "I am asking them to stage personal activities instead of a gathering."
The junta, known formally as the National Council for Peace and Order (NCPO), banned all political activities after toppling a Redshirt-backed government last May.
NCPO spokesperson Col. Winthai Suwaree explained today that the ceremony is "very likely" to be seen as political activity if UDD leaders attend.
"Therefore, to prevent individuals with ill intention from misusing the event, they should adjust the activity to be solely about the relatives [of the crackdown victims], while those with good intention can support the event by donating money," Col. Winthai said.
Complying with Col. Winthai's request, Jatuporn asked Redshirt supporters not to attend the ceremony, but donate money to the temple instead.
"We want to let the families make merit for those who have passed away without any obstacles," Jatuporn said. "Therefore, I am asking the NCPO to be open-minded and mature about this; not to obstruct the merit-making ceremony or be any more paranoid than they already are. They should spend time working on the road map [to democracy], that would be better."
The ceremony is scheduled for this Friday, the fifth anniversary of the day that then-Prime Minister Abhisit Vejjajiva ordered the military to disperse tens of thousands of Redshirts who were rallying in Bangkok to demand a new election.
At least twenty civilians and five soldiers died during clashes between soldiers and shadowy "Blackshirt" militants who were allied to the protesters.
The military later mounted another assault on the Redshirts in late May 2010, forcing the movement's leaders to surrender and call off the protests on 19 May 2010. In total, more than 90 people, mostly civilians, were killed in the violence.
Since 2010, Redshirt activists have gathered in Bangkok every 10 April to honor the victims.