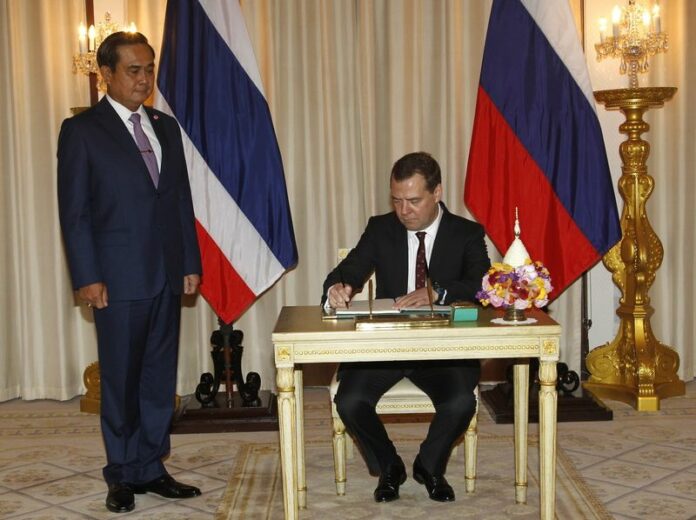 BANGKOK (DPA) — Diplomatically spurned by the US and Western European countries over its military coup in May, Thailand's ruling junta is looking elsewhere for friends.
Russian Prime Minister Dmitry Medvedev's visit to Thailand on Wednesday marked the first time a leader from outside Asia has visited the country since the military took power.

Thailand's Prime Minister Prayut Chan-o-cha (R) shakes hands with Russian Prime Minister Dmitry Medvedev (L) at the end of their joint news conference at Government House in Bangkok, Thailand, 08 April 2015. EPA/RUNGROJ YONGRIT
Medvedev is an "old friend," Thai Prime Minister Prayuth Chan-ocha said, and characterized their meeting as "very important."
"Warming up to Moscow lends the Prayuth government significant short-term leverage against the West," said Thitinan Pongsudhirak, the head of the Institute for Securities and International Studies think tank in Bangkok.
"For Thailand under the military regime, Russia represents another geostrategic hedge [against] Western criticisms."
At the same time that Prayuth was hosting Medvedev in Thailand, Defence Minister and Deputy Prime Minister Prawit Wongsuwan was in Beijing to boost defence ties.
China was the first major power to acknowledge Thailand's military regime.
They were to discuss the purchase of submarines for the Thai navy as well as joint military exercises between the two nations.
Closer defence ties with China are seen by analysts as a response to cooler relations with the US. Washington scaled down its involvement in the annual Cobra Gold exercises that is hosted by Thailand each February.
Prayuth remarked before his meeting with Medvedev that Thailand was interested in purchasing Russian arms.
"The coup represented a unique opportunity for both China and Russia," said Pavich Supapipat, a government policy analyst at advisory firm Vriens & Partners.
"For years, Thailand was the only US ally on mainland South-East Asia but the friction brought about by the coup has let Russia and China move in to fill the void."
But the military government is due to be in place for another year before it returns Thailand to civilian rule, and Pavich argues that any foreign policy shifts are only temporary.
"The Thai government's recent embrace of China and warm welcome of Russia are likely to be short-term, expedient moves to counter Western posturing," agrees Thitinan.
Both analysts warn that short-term measures could have long-term effects for one of the United States' oldest allies in the region.
"The military has to balance its need to be recognized with the long-terms needs of the country," Pavich argues. "Otherwise we risk damaging a very good friendship."
"Thailand is playing a costly game in cosying up to these authoritarian powers," Thitinan said.
(Reporting by Cod Satrusayang, dpa)