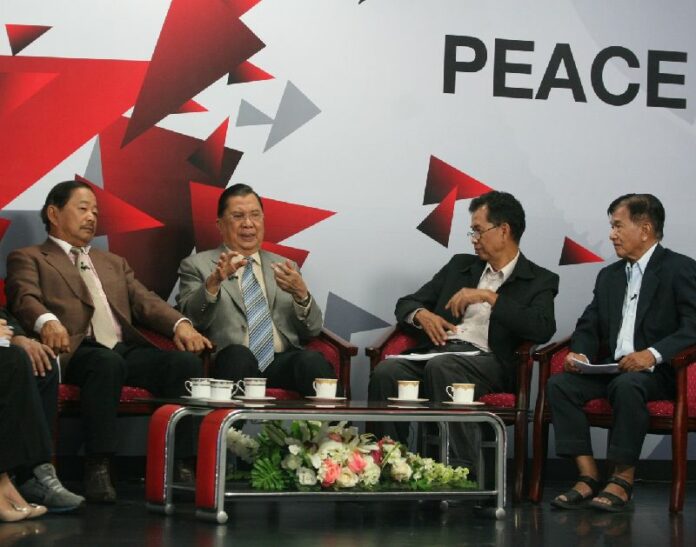 BANGKOK — A core leader of the Redshirt movement said he may submit a royal petition to the Thai King as a last resort to protest the shutdown of a Redshirt-operated TV station.
Thailand's National Broadcasting Telecommunication Commission (NBTC) ruled to revoke the license of Peace TV on 27 April. According to NBTC member Natee Sukonrat, the channel's news coverage violated the junta's Order No. 97, which forbids media from fomenting violence or causing "divisions in the Kingdom."
Peace TV, which is operated by the largely anti-coup Redshirt movement, often featured core Redshirt leaders like Jatuporn Prompan, Nattawut Saikua, and Thida Thawornseth.
Jatuporn told reporters today that he will submit a letter to junta chairman Gen. Prayuth Chan-ocha tomorrow, urging him to overrule the NBTC's order.
If all efforts fail, Jatuporn said he will write a royal petition to His Majesty the King to ask for fairness in the case. "It will be the last thing we will do," the Redshirt leader said, adding that he will also seek legal action against the NBTC.
All petitions submitted to King Bhumibol are screened by the Royal Household Bureau. His Majesty is not obliged to respond to every petition the palace receives.
Since staging a coup against a Redshirt-backed government on 22 May 2014, Gen. Prayuth has repeatedly cautioned the media against criticizing his administration. Asked to comment on the shutdown of Peace TV yesterday, he said, "Go ask NBTC. I don't know. I have assigned them to look into it."
"I have said already, if you don't cooperate, you will be in trouble," he continued. "So, blame your own boss. The editors, the publishing house owners. Don't blame me."
Speaking to reporters today, Jatuporn warned that a continued suppression of media freedom may lead to further political conflicts.
"I think it's unfair. The NBTC has wrongly analyzed the contents [of our channel]," Jatuporn said, "It will not benefit the situation of the country. Whoever plotted this plan is drawing a new round of war to our country. It will lead to problems."
Both of Thailand's Redshirt and Yellowshirt movements operate their own TV and radio channels featuring news programs and live broadcasts of their political rallies. Media agencies affiliated with the two groups played significant roles in the pro- and anti-government rallies last year that culminated in the May 2014 coup.
On 20 May 2014, then-army chief Gen. Prayuth unilaterally imposed martial law and ordered all partisan media agencies to shut down. The media outlets were later allowed to resume operations under the conditions that they change the names of their stations and adhere to the junta's guidelines.
Critics say the junta is particularly bent on curbing the influence of the Redshirt movement, which has commanded the polls and elected majorities in congress in every national election for the past decade.
Yesterday, Supan Rakchuea, director of rights and freedom department of the Thai Broadcast Journalists Association (TBJA), urged the NBTC to revise its ruling and consider other options for punishing Peace TV.
"The NBTC should strictly stick to its procedures, otherwise NBTC may be questioned whether it is being selective," Supan said in a statement. "As for Peace TV station, they must also bear in mind that although media has freedom, but that freedom must come with responsibility, especially in the time that Thailand needs understanding that will lead to reforms and reconciliation."