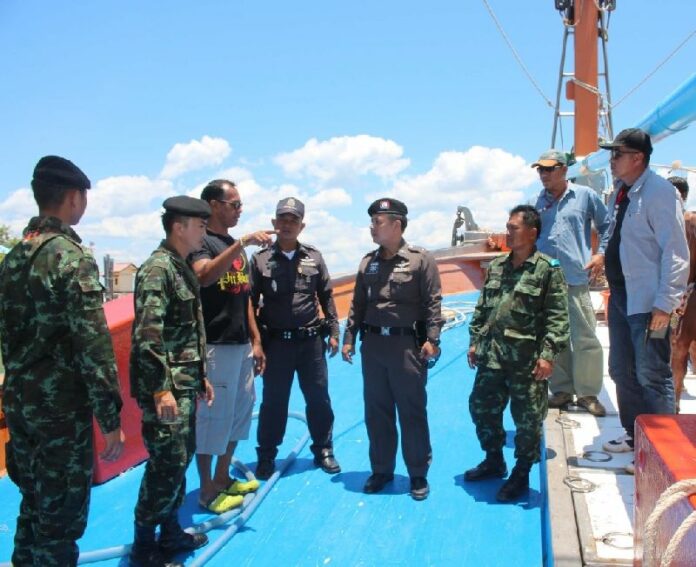 BANGKOK — Thailand's National Human Rights Commission (NHRC) has urged the ruling military junta to invoke its sweeping emergency power to eradicate human trafficking networks.
Niran Pitakwatchara, chairman of the NHRC, said he has been closely following the plight of Rohingya refugees who flee ethnic persecution in Myanmar only to be intercepted by traffickers in Thailand, where they may be held for ransom or sold as slave labor.
Security officers carrying the remains of one of six bodies found in Songkhla province on 6 May 2015.
In the past week, police have discovered several abandoned camps near the Thai – Malaysian border that they believe were used by traffickers to detain Rohingya refugees for ransom. Mass graves and at least 30 corpses have been found near the camp sites, which are located deep in the jungle.
"Because of these [discoveries], no agency will dare deny the existence of a trafficking operation in Thailand," Niran said. "I am also glad that Gen. Prayuth Chan-ocha, the Prime Minister, has announced that combating human trafficking is a top priority."
Gen. Prayuth, who is also chairman of the military junta, has pledged to crackdown on trafficking networks, which he has said may require the use of Article 44, a clause in the interim constitution that grants him power to unilaterally issue orders and enact laws.
Niran said yesterday that he welcomes the idea.
"If the government exercises its power under Article 44 to solve this problem, especially by using the administrative power to deal with bureaucrats or local politicians who are involved, and to root out the causes of the problem, then it may be a good solution."
International human rights groups have largely condemned Article 44, which has been described as a "dictatorial" power because of its sweeping scope. According to Brad Adams, Asia director of the New York-based Human Rights Watch, the use of Article 44 has deepened Thailand's "descent into dictatorship."
The NHRC has come under steady criticism from pro-democracy activists in Thailand for its perceived failure to challenge the junta's suppression of civil rights since the 22 May 2014 coup. Critics also accuse the agency of harboring a bias against the Redshirt movement, which supported the former government toppled in the takeover.
In late December 2014, an UN agency warned that it may downgrade the NHRC for failing to act as an impartial watchdog.

Security officers search the coast of Phang Nga province to look for suspected Rohingya detention camps, 6 May 2015.
10-day deadline to clear out camps
Gen. Prayuth has given local authorities 10 days to find and dismantle any other trafficking camps in their jurisdictions, said junta spokesperson Maj.Gen. Sansern Kaewkamnerd.
The junta chairman also said he would activate Article 44 to deal with complicit officials, Sansern said.
"If they discover information that state officials are involved, and make it unable for local authorities to handle the cases in their areas, they can report about it to the Department of Provincial Administration," Maj.Gen. Sansern explained. "The Prime Minister will use his power under Article 44 to solve problems for them."
For years, successive Thai governments have failed to effectively dismantle trafficking networks in the country, in part because of the protection offered by some Thai officials involved in the lucrative trade.
Last year, the United States government cited the complicity of Thai officials as one the reasons for downgrading Thailand to the lowest rank in its annual assessment of how foreign governments combat human trafficking.
Since the downgrade, the Thai military government has pledged to turn the country's reputation around, enacting new legislation and toughening the legal penalties for convicted traffickers. This week, at least 50 police officers in southern Thailand, including high-ranking commanders, were transferred following the discovery of the suspected trafficking camps.
At least four people, including three local Thai officials in Songkhla province and one Burmese national, have been charged with human trafficking, illegal detention, and abduction for ransom for their alleged connection to the camps.
Meanwhile, the search for more detention camps and suspects related to the operation continues. Yesterday, the remains of four men and two women were found in Songkhla province near the mass grave discovered over the weekend.