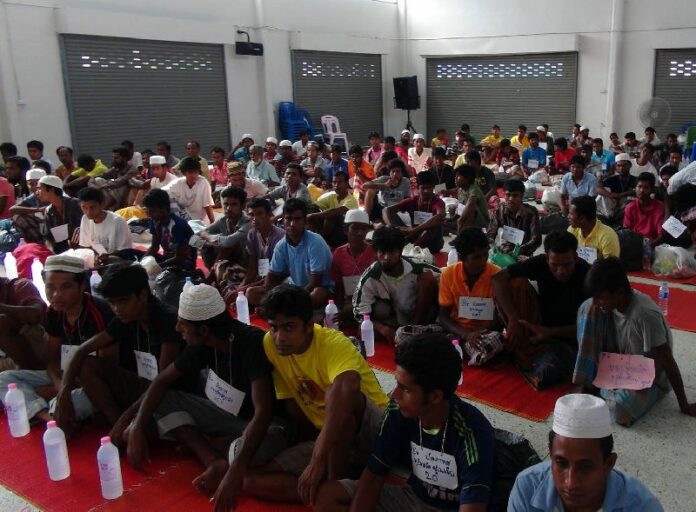 SONGKHLA — Police say 187 migrants who were abandoned by their brokers in Thailand and recently rescued by authorities will be prosecuted on charges of illegal entry into the country.
Police have encountered a total of 250 refugees from Myanmar and Bangladesh wandering through the jungle in Songkhla province over the past ten days, said Pol.Gen. Aek Angsananont, deputy commander of the Royal Thai Police.
A sweep of the southern province's mountainous border-region was ordered after police found an abandoned detention camp and a mass grave of Rohingya corpses on 1 May.

Suspected ethnic Rohingya migrants, who were rescued by Thai officials from a jungle, are detained at the city hall in the Thai-Malaysian border district of Hat Yai, Songkhla province 7 May 2015. EPA/STR
According to Pol.Gen. Aek, 187 of the refugees will be prosecuted for illegally entering Thailand, while 63 have been categorized as victims of human trafficking.
He added that female police officers have been dispatched to assist women and children at the temporary shelter in Rattaphum district.
Many of the refugees have been identified as Rohingya, a persecuted Muslim minority that has left Buddhist-majority Myanmar in droves since religious violence broke out in 2012.
Tens of thousands of Rohingyas have paid human smugglers to bring them on perilous boat journeys to other countries, such as Muslim-friendly Malaysia. The boats often stop in Thailand, where refugees are hidden in the jungle until it is safe to cross overland into Malaysia, or detained until family members cough up exorbitant ransom fees. Many of the refugees encountered by police showed signs of physical abuse and malnutrition.
Thai police have discovered four abandoned detention camps in Songkhla province since the beginning of the month. Seventeen people have been arrested in connection with the camps, including several local Thai officials, and at least 50 police officers in the area have been transferred.
The crackdown comes as Thai authorities hope for an upgrade in the US's upcoming report on human trafficking. Last year Thailand was moved down to the report's lowest category for failing to meet the minimum standards to combat trafficking. Human rights groups say Thai authorities have been aware of trafficking operations inside the country's borders for years, but mostly turned a blind eye in exchange for bribes.
Police are still looking for 33 other suspects, including Patchuban Angchotipan, aka Ko Tong, a former local administrative official and owner of several resorts in Satun province.
"He is the head of human trafficking operations in Satun," Pol.Gen. Aek told reporters. "There are five networks working together, with around 29 operators. All of these have been issued with arrest warrants. They brought in Rohingyas and Bangladeshis and sent them to Malaysia."
Police believe Patchuban and several other suspects have already fled the country, Pol.Gen. Aek said. He added that anyone with clues about the human trafficking network can alert police at the hotline 1300, or dial 074-258-444.
Since the crackdown on Thai soil, there has been a spike in the number of migrants arriving by boat to other southeast Asian countries. Over the weekend, more than 1,500 migrants from Myanmar and Bangladesh were rounded up by police in Malaysia and Indonesia.
According to the UN, around 25,000 Rohingya refugees and Bangladeshis fled on boats between January and March of 2015, a number twice as high as the same period last year.