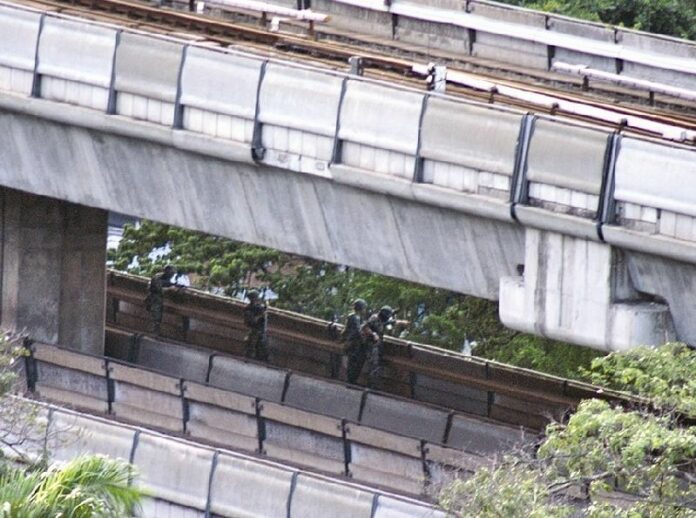 BANGKOK — Several dozen people attended a Buddhist ceremony at Wat Pathumwanaram in Bangkok this morning to honor the six civilians who died there during a military crackdown on Redshirt protesters five years ago.
The group was led by Payao Akhard, whose daughter was working as a volunteer nurse inside the temple when she was shot and killed by soldiers on 19 May 2015.
"I have done this every year because I miss her," Payao said. "And I want to let her know that I am still fighting for justice on her behalf."

The ceremony at Wat Pathumwanaram Temple in Bangkok on 19 May 2015.
Although Thai authorities blocked a similar ceremony for victims of the crackdown last month, today's low-key event was allowed to go forward.
Soldiers and police at Wat Pathumwanaram initially attempted to bar reporters from entering the temple this morning, but eventually relented after one of the victim's relatives promised the ceremony would be strictly religious in nature.
Plain-clothed security officers were seen observing the ceremony from a distance.
Political events are still banned by the ruling military junta that toppled a Redshirt-backed government one year ago. Redshirt supporters normally gather in Bangkok by the thousands to mark the crackdown's anniversary, but they were forced to cancel this year's event in compliance with the junta's orders.
Five years ago today, on 19 May 2010, the military squashed a mass Redshirt protest movenment in Bangkok, after weeks of deadly skirmishes between demonstrators and security forces had turned parts of the city into a war zone. More than 90 people, mostly civilians, were killed in the unrest.
As the military advanced toward the Redshirts' main encampment on Ratchaprasong Intersection, hundreds of Redshirts fled into Wat Pathumwanaram, which was designated as a "safe zone" by the government at the time.
However, a group of soldiers opened fire into the temple from an elevated skytrain track, according to photographs, videos, and witnesses' testimonies. The gunfire left six people dead, including three protesters, two volunteer medics, and one rescue worker. A court inquest in 2013 ruled that the soldiers were responsible for the deaths.
Five years later, no soldier or state official has been held responsible for the crackdown.
In late 2010, former Prime Minister Abhisit Vejjajiva and his deputy, Suthep Thaugsuban, were charged with murder for authorizing the crackdown, but the court dropped the case in August 2014 and assigned the National Anti-Corruption Commission (NACC) to investigate the pair for "abuse of power" instead.
Payao said she will meet with NACC officials to ask about the case's progress soon.
"I don't want this case to fall silent," she said.
Anek Laothamathas, a member of the junta-appointed National Reform Council (NRC), made a suprising appearance at the ceremony this morning.
He told reporters he accepted an invitation from Payao, and said he believes Thailand has much to learn from the 2010 crackdown, without elaborating.
"I think the society in the present time has to learn lessons and move past this conflict," Anek said.
Some relatives of the victims privately told Khaosod they were upset by Anek's appearance because he is a member of the military junta's government.
Several military commanders who played major role in the 2010 crackdown are now leading the junta, including junta chairman and Prime Minister Gen. Prayuth Chan-ocha, who led the coup last May, and Minister of Defense Gen. Prawit Wongsuwan.