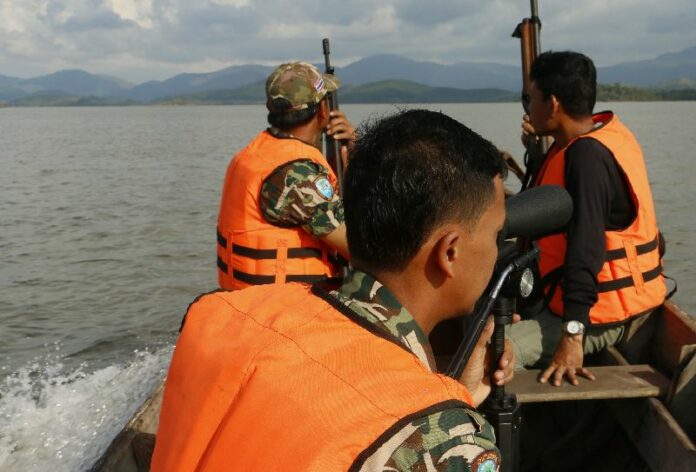 BANGKOK — Thailand's Army Chief said today that Rohingya migrants fleeing persecution in Myanmar do not qualify for refugee status in Thailand, and will be treated as illegal migrants.
Gen. Udomdet Sitabutr was responding to the suggestion that Thai authorities build refugee camps for the Rohingya, a Muslim group that has fled violence and state-sanctioned discrimination in Myanmar in droves, often by boat.
The Rohingya currently lie at the center of a regional migration crisis, with thousands of them stranded at sea because Thailand, Malaysia, and Indonesia have refused to take them in.
At a press conference today, Thailand's army chief sought to differentiate the Rohingya from other ethnic groups, such as the Karen, who live in nine refugee camps in Thailand along the Thai – Myanmar border.
"The people who stay there fled from wars, because there are conflicts in Myanmar with minorities, and they cannot find a solution," Gen. Udomdet said. "But for the Rohingyas, let me explain that it is different issue, because it is about people who entered the country illegally."
However, the plight of the stateless Rohingya, who the UN considers one of the world's "most persecuted" minorities, is well documented. Violent attacks by Buddhist mobs have driven tens of thousands of Rohingya to flee their homes in the Rahkine state. Many are now confined to squalid refugee camps, where they are denied citizenship by Burmese authorities and struggle to access basic services.
The Simon-Skjodt Center for the Prevention of Genocide warned this month that the Rohingya are "at grave risk for additional mass atrocities and even genocide" in Mynamar, where Buddhist nationalism and anti-Muslim sentiment is on the rise.
Speaking to reporters today, Gen. Udomdet reiterated that Rohingya migrants may land on Thai shores, but will be charged with illegal entry into the Kingdom.
"Let me insist that we never push back any boats, we never expel any one, because we are merely a transit country, not the destination of the Rohingyas," he said. "Our country is being watched by many international organizations who do not understand our situation. I want to explain to them and make them understand."
Gen. Udomdet also expressed support for Thai police's recent crackdown on human trafficking operations in the south.
"If they discover any soldier involved in illegal action or human trafficking, they can fully prosecute that person," Gen. Udomdet said. "Good people need to be rewarded. Bad people need to be stripped of their roles. They won't be allowed to stay in the army."
More than 70 arrest warrants have been issued in connection with human trafficking networks in Thailand since 1 May. The suspects include businessmen, local administrative officials, and police, but no members of the armed forces.
Although a number of Thai media agencies reported that police are preparing to issue an arrest warrant on an army officer, a high-ranking police officer dismissed the rumor yesterday.
"No army officer is involved in the human trafficking network, despite the news that have been published," said Pol.Lt.Gen. Montri Potranant on 19 May.
In December 2013, the Royal Thai Navy sued two editors of a Phuket-based news site with defamation for publishing an excerpt from a Reuters news article that accused some Navy officers of profiting from human trafficking.