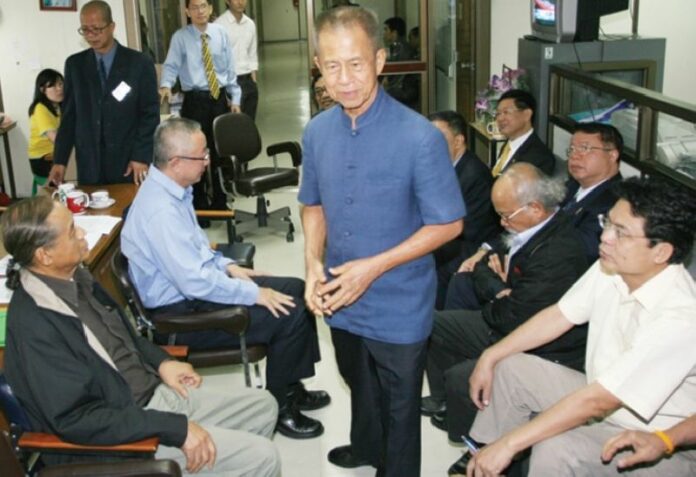 BANGKOK — Six former leaders of the Yellowshirt movement were sentenced to two years in jail today for occupying Bangkok's Government House for nearly four months during a protest in 2008.
All six defendants are founders of the People's Alliance for Democracy (PAD), an umbrella organization of the Yellowshirt movement that first organized street protests against then-Prime Minister Thaksin Shinawatra in 2005.
The 2008 protests were launched in an effort to oust the government led by a political party allied to Thaksin, who was removed in a coup in 2006.

Yellowshirt protesters at the Government House, 28 August 2008
On 27 August 2008, tens of thousands of PAD protesters seized the Government House in Bangkok and held the venue as a headquarters until the protests came to an end on 3 December, following a court ruling that dissolved the ruling People's Power Party.
The six men – Chamlong Srimueng, Sondhi Limthongkul, Pipob Thongchai, Somkiat Pongbaiboon, Somsak Kosaisuk, and Suriyasai Katasila – were found guilty today of intruding into a state agency and damaging public property.
The criminal court dismissed the activists' defense that they tried to dissuade protesters from damaging property inside the Government House.
"Although the six defendants contested that they had no knowledge about the intrusion into the Government House by the demonstrators, and that they had tried to encourage the demonstrators not to cause damages inside the Government House, the court sees that those are only dubious claims that can be dismissed," the court said.
The verdict continued, "As for the defendants' argument that it was an unarmed protest, the court sees that intrusion into the Government affected the rights and liberty of others, and does not constitute as a peaceful assembly under the Constitution."
Another part of the verdict read, "Although the defendants have an intention to protect the national interest, they are guilty as charged."
The court then handed down a sentence of two years in prison for each of the six leaders.

PAD camp site at the Government House, 11 September 2008
Suwat Apaipakdi, the lawyer who represented the men, said his clients will appeal the court verdict. He said he has posted a bond of 200,000 baht for each defendant to secure their release on bail.
The six PAD leaders are also facing separate charges for occupying Bangkok's two international airports as a part of their anti-government campaign in 2008.
The court has postponed the trial for the airport intrusions 18 times over the past six years. The latest postponement was ordered in December 2014, with a new trial date set in July 2015.