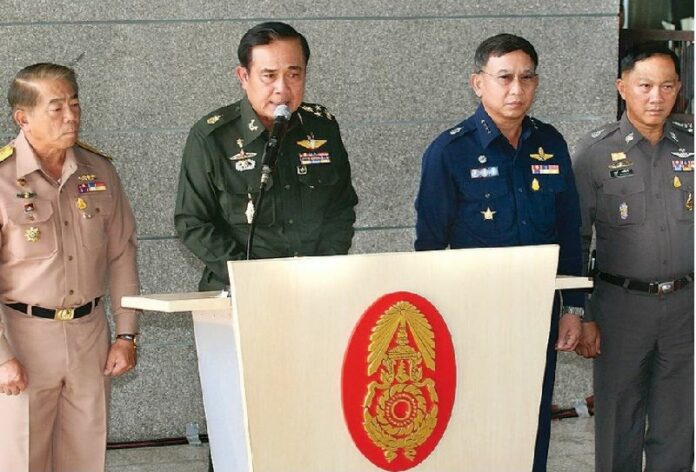 BANGKOK – Thailand's criminal court has dismissed a lawsuit filed by four activists who accused junta chairman Gen. Prayuth Chan-ocha of high treason for staging a coup d'etat against an elected government one year ago.
Four activists from the anti-coup group 'Resistant Citizens' filed the largely-symbolic lawsuit at the court on 22 May – the first anniversary of the coup.
The Criminal Court dismissed the case today, citing the legal amnesty the coup makers granted themselves in the interim charter they enacted shortly after the military takeover.
Section 48 of the interim charter specifically exempts the junta, formally known as the National Council for Peace and Order (NCPO), from any legal action over the "seizure and control of administration of State affairs on the 22nd day of May B.E. 2557 (2014)."
The court said today that although the coup was "not in accordance with principles of democratic regime, there was later a royal promulgation of the interim constitution of BE 2557, which contains a provision that exempted [the junta] from any liability in Section 48."
The ruling concluded, "Therefore, the action of the five defendants are exempted from guilt and liability, as prescribed in the interim constitution of BE 2557. The lawsuit filed by the fifteen accusers consequently has no basis for the court to deliberate. The case is hereby dismissed."
The activists had urged the court to prosecute Gen. Prayuth and four other military and police officers for violating Section 113 of the Thai Criminal Code, which outlaws armed insurrection against the Constitution, government, or the monarchy.
​
The Resistant Citizen activists outside Bangkok's criminal court, where they filed a lawsuit against junta chairman Gen. Prayuth Chan-ocha on 22 May 2015.
Pansak Srithep, a member of Resistant Citizens who filed the lawsuit, told Matichon he accepted the court's decision and was heartened to see judges recognize the coup as undemocratic.
"The ruling specified that the action of the NCPO was not in accordance with democratic principles," Pansak was quoted as saying. "It's equal to saying that the NCPO indeed did something wrong."
The Thai military has launched 13 successful takeovers since democracy was established in 1932. Previous coup makers habe similarly granted themselves amnesty.