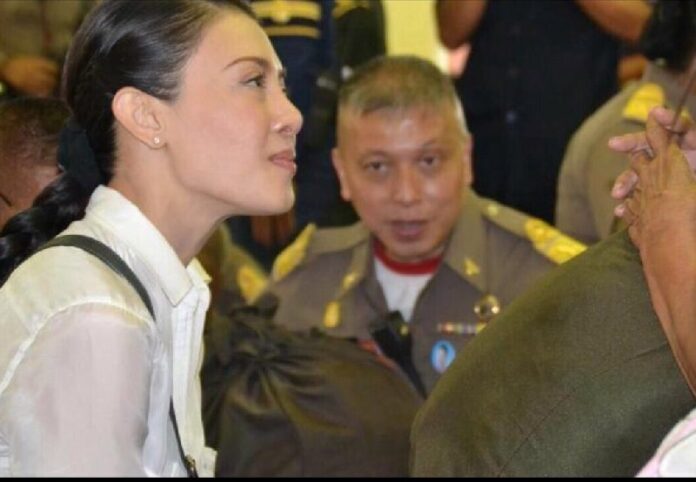 BANGKOK — Police have charged a Royal Household Bureau official with defaming the monarchy by allegedly claiming his close ties to the royal family for personal gain.
The 53-year-old official, Montri Sotangkul, has been charged with violating Section 112 of the Thai Criminal Code, a law known as lese majeste, which criminalizes insulting the Thai King, Queen, Heir Apparent, or Regent. The offence carries a maximum penalty of 15 years in prison.
Montri is also a former executive board member of the state-owned petroleum giant PTT, said Pol.Gen. Somyot Pumpangmuang, commander of the Royal Thai Police.
According to Pol.Gen. Somyot, Montri claimed close relations with "the higher institution" – a euphemism for the monarchy – in order to become a board member of two state enterprises, including PTT, and secure the rights to buy and sell land in Bangkok.
"I have sent a letter to Royal Household Bureau requesting them to hand over Montri to police for legal prosecution," Pol.Gen. Somyot said.
The Royal Household Bureau manages affairs related to the Thai monarchy.
Pol.Gen. Somyot added that Montri is a part of the royal entourage of former princess Srirasmi, an ex-wife of Thailand's Crown Prince who announced her resignation from the Royal Family in December 2014. She stepped down amidst a scandalous string of lese majeste charges against members of her family, including her brothers, sister, parents, and uncle.
All of them are now serving time in prison.
"What Mr. Montri has done, he has done on his own, and it is something related to the the former Royal Consort," Pol.Gen. Somyot said today, referring to ex-Princess Srirasmi. "It is not related to, and it is not something Mr. Montri has done for Crown Prince Maha Vajiralongkorn. Let me insist again: His Royal Highness is not involved or aware or related to what Mr. Montri has done."
Pol.Gen. Somyot also told reporters that Srirasmi personally appointed Montri to her entourage, and that the Crown Prince was not involved in her decision.
The palace scandal exploded in November 2014 when Sriasmi's uncle, former Central Investigative Bureau chief Pol.Lt.Gen. Pongpat Chayaphan, was charged with running a massive crime syndicate and using the Crown Prince's name to further his riches.
In response, Crown Prince Vajiralongkorn stripped Srirasmi's family of the royally-bestowed surname Akharaphongpreecha, forcing them to revert back to their "commoner" surname, Suwadee, on 30 November.
Less than two weeks later, on 12 December, the Royal Household Bureau announced that Srirasmi had resigned from her status as a member of the Thai Royal Family. She moved out of the Crown Prince's palace in Bangkok to live with in her parents' home in Ratchaburi province. She has not been seen in public since 13 December.
Crown Prince Vajiralongkorn and Srirasmi were married in 2001. They have one 10-year-old son.
Speaking at the press conference today, Pol.Gen. Somyot said a preliminary investigation suggests Montri is also related to the alleged criminal ring run by Pol.Lt.Gen. Pongpat, but more investigation is needed to confirm the link.