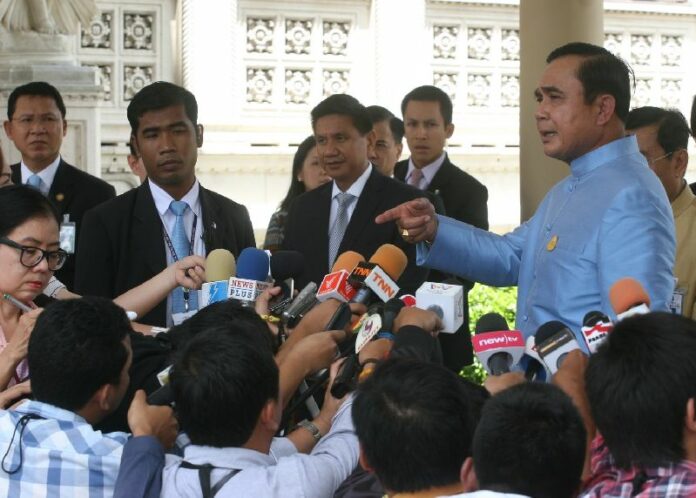 BANGKOK — Thailand's military junta has instructed reporters not to ask any questions that will upset government officials and affect their reputations.
Lt.Gen. Suchart Pongput, a junta official in charge of media relations, told newspaper editors yesterday that reporters should only ask the Prime Minister and Cabinet members "constructive questions" that do not "incite" conflict or confrontation.
"Sometimes, reporters interview government VIP officials and put them in a bad mood, and then it results in a bad image," Lt.Gen. Suchart said. "So, I'd like to ask the reporters to ask appropriate questions and exercise their judgement to avoid causing conflicts or any troubles."
The officer continued, "I am not saying that the media distorts the news, but sometimes information [reported by the media] is not true. Please check and clarify the information first. Once the news gets published and mistakes are out there, you will have to spend time fixing them, and it causes the public to feel uncomfortable. I'd like the editorial boards to check every news before it's published."

Gen. Prayuth Chan-ocha throws a half-eaten banana at reporters at Government House in Bangkok, 24 December 2014.
Junta chairman and Prime Minister Prayuth Chan-ocha, who seized power from an elected government one year ago, is known for his short temper with the media and abrasive talking style. The general frequently lashes out at reporters during press conferences – sometimes with swear words.
[Read more: Thai Junta Leader Unleashes Fury on Reporters]
In one incident, which has been widely lampooned by critics, Gen. Prayuth threatened to throw his podium at reporters. In another, Gen. Prayuth quipped that he may simply "execute" journalists who challenge his government.
Lt.Gen. Suchart also reminded the newspaper editors at the meeting that they have to strictly follow previous orders issued by the military junta, such as a ban on news coverage that criticizes the regime "with malicious intention," mobilizes protests, or threatens national security.
Last month, a TV station operated by Thailand's Redshirt movement was ordered off the air because its news coverage was deemed too "divisive" by the state's media regulating agency.
Public protests and political activities of any kind remain banned by the junta, which says the restrictions are needed to promote "national reconciliation" between the country's divided political factions. Violators are often arrested and some have been sent to stand trial in military court.
In January, the US-based rights group Freedom House downgraded Thailand in its worldwide freedom index from "Partially Free" to "Not Free," citing "severe restrictions on speech and assembly" imposed by the junta.