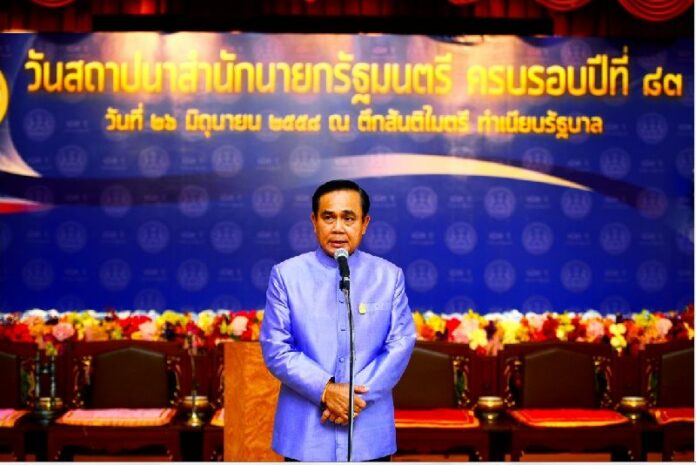 BANGKOK — A Redshirt leader in northern Thailand says there will be no protests during junta chairman Prayuth Chan-ocha's visit to Chiang Mai – a major stronghold of the largely anti-coup Redshirt movement.
"It is not yet the time for dissent or opposition," said Pichit Tamoon, who leads the Redshirts' Chiang Mai chapter. "We are still giving the government a chance to work, solve problems, and fix the economy. But we do ask them to stick to the road map, and organize a democratic election that will return power to the people."
Gen. Prayuth Chan-ocha, who toppled a Redshirt-backed government thirteen months ago, is scheduled to arrive in Chiang Mai today for a two-day visit. Over 2,000 police officers have been mobilized to maintain security during his trip, according to the commander of the Fifth Region Police.
"As for any possible movement from various groups that may oppose or make demands to the government or the Prime Minister, the fifth region police have already coordinated with the military to collect intelligence and meet with all the groups." Pol.Lt.Gen. Thanitsak Teerasawasdi said. "There will be no movements related to politics. The overall situation is normal."
Thailand's junta has maintained a strict ban on political activities and protests since the May 2014 coup. Redshirt leaders and activists have largely kept quiet under the military's watchful eye, while those who do speak out are often summoned by the army for "attitude adjustment." Last month, the government revoked the license of a Redshirt-run TV channel for airing "politically divisive" content.
As the birthplace of the exiled leader of the Redshirt movement, former Prime Minister Thaksin Shinawatra, Chiang Mai has long been considered home turf for the Redshirts, most of whom hail from rural, rice-farming provinces in northern and northeastern Thailand.
However, speaking to reporters yesterday, a government spokesperson said that the junta "does not see Chiang Mai as a space that exclusively belongs to Redshirts or any other color."
"There may be several people or a small group of people who don't understand us, but society can judge them on its own," said Maj.Gen. Sansern Kaewkamnerd. "It is not the time to use emotion and say things like, 'we want to oppose the coup.'"
In November 2014, five university students in northeastern Thailand interrupted a speech by Gen. Prayuth by raising the three-finger anti-coup salute. The five student activists were arrested and later released without charges, but are now being held in a Bangkok prison along with nine other activists for staging a peaceful pro-democracy demonstration last week.