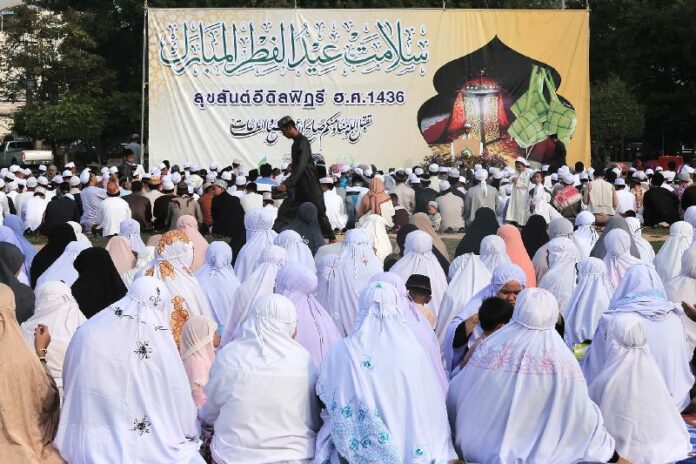 YALA — A former Muslim insurgent leader was released from prison today on the final day of Ramadan after receiving a pardon from Thai authorities.
Haji Sama-ae Thanam, 63, led the armed wing of the Patani United Liberation Organization (PULO), one of the separatist groups seeking to secede three southern provinces in Thailand, until he was arrested and charged with terrorism in 1997. He was found guilty in court in 2011 and sentenced to life in prison.
According to the authorities, Sama-ae, who is known among other militants as Ismael Gaddafi, planned numerous attacks against security officers in the Muslim-majority region known as the Deep South. Although PULO faded from the scene in late 1990s, new militant groups revived the insurgency in January 2004, and have been fighting Thai authorities in the region ever since, claiming the lives of more than 6,000 people.
After spending 18 years behind bars, Sama-ae was released from Yala Provincial Prison today. Officials said Sama-ae's sentence was commuted as part of a government effort to encourage reform among former insurgents who show good behavior in prison.
Sama-ae was welcomed by his relatives, including his son and wife, and community leaders at the prison today.
Panu Uthairat, sec-gen of the Southern Border Provinces Administrative Center, told reporters that Sama-ae thanked junta chairman and Prime Minister Prayuth Chan-ocha for the pardon, which allowed him to observe Eid al Fitr, a celebration of the end of Ramadan, with his family.
"It is the most precious gift for his family," Panu said.
He explained that Sama-ae was rated as an "Exceptional Prisoner" by the prison, which allowed him to qualify for a government policy to pardon former insurgents' that display a willingness to reform.
"Haji Sama-ae's [pardon] today is in accordance with policy of the Prime Minister, and has been given approval by commander of the Fourth Region Army, because he has been behaving well throughout all this time," Panu told reporters. "So he received a reduction of sentence to 27 years 9 months, and Sama-ae has already served one third of that new sentence, so he qualified for a pardon."
He added, "Sama-ae has been cooperating with authorities and providing assistance in solving problems of the three southern border provinces, and he has expressed his sincerity in building peace in the region."
Founded in 1968, PULO fought a violent campaign to secede the three border provinces of Yala, Pattani, and Narathiwat, which were annexed by Thailand in early 20th century. The organization's influence later waned in late 1990s due to internal disputes and arrests of its high-ranking members, such as Sama-ae.
Although successors of PULO continue to occasionally issue statements in support of independent Patani, Thai authorities believe that a majority of the ongoing violence in the region is waged by other local militant networks who have no direct links to PULO.