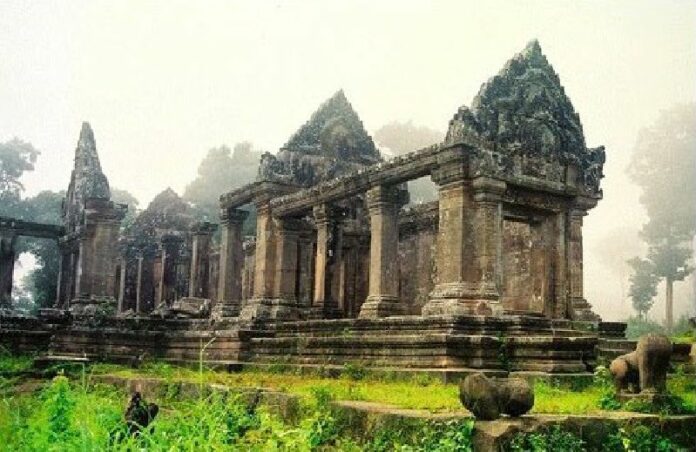 SI SA KET — Those fighting over sacred sites elsewhere in the world should take note of this innovative solution.
After failing to wrest a sacred, mountaintop temple from Cambodia by force of law or just force, the Thai military is considering constructing a mock version of it for visitors to enjoy without having to leave the kingdom.
"It will draw many tourists to visit … because tourism business owners in Bangkok are saying many tourists want to see Prasat Phra Wihan," said Kalyanee Thamjaree of the governor's office in Si Sa Ket province, using the Thai name of Preah Vihear temple. "So I want this project to be built quickly, so that people around Prasat Phra Wihan will be able to sell souvenirs to tourists."
Ultranationalists in Thailand have seethed ever since the International Court of Justice ruled in 1962 the ancient Khmer temple belonged to Cambodia and over the years have called for forcefully reclaiming it.
Artillery and gunfire killed soldiers on both sides during the last flare up in 2011, and it is no longer accessible from the Thai side, ending once-thriving trade there.
Four years after that last deadly exchange between Thai and Cambodian security forces, Si Saket provincial officials said the military has approved the idea to build a replica of it not far from the real deal.
Ultranationalists reel from a clash with police during a protest demanding return of Preah Vihear Temple to Thai sovereignty in Si Saket province on 19 September, 2008.
"If we build a new tourist destination, tourists will want to learn about history and culture of Thailand and Cambodia," Kalyanee said.
The real temple is about nine centuries old and is richly appointed in an ornate style of that era. It sprawls nearly a kilometer atop the mountain.
Si Sa Ket wants to increase tourism to the province, so it would like the new one finished as soon as possible, Kalyanee said. September brings cold weather and a picturesque "sea of fog," she added.
Those living in Bangkok who want to see its beauty should know this won't be the first replica of the temple. They can find a scaled imitation southwest of town at Ancient City in Samut Prakan province.
A replica of the Preah Vihear temple at Ancient City in southwestern metropolitan Bangkok. Photo: Ancient City Group
Correction: An earlier version of this story mistranslated Kalyanee Thamjaree of Si Sa Ket's governor's office reference to the temple as Preah Vihear. The temple is known in Thailand as Phra Wihan.
To reach us about this article or another matter, please contact us by e-mail at: [email protected]