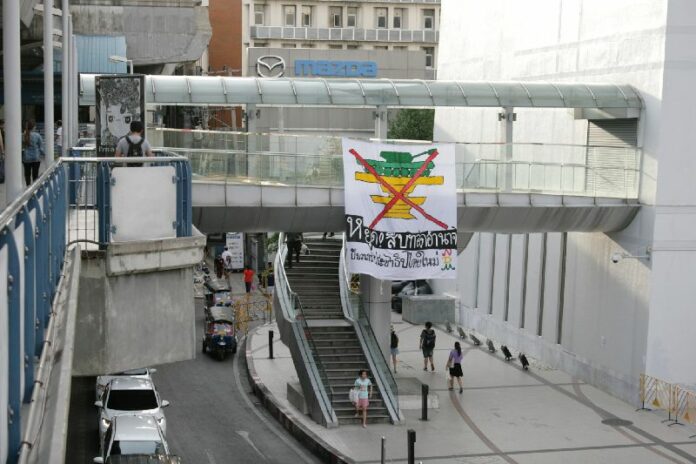 BANGKOK — The most recent delay to holding elections in Thailand will leave the kingdom living under military rule for the longest time since 1969.
Sunday's defeat of the proposed constitution, which was drafted under military supervision and then rejected on its orders, sent the nation back to step one in the junta's "roadmap" and pushed general elections to June 2017, at which point the military will have been in power three years.
Members of the junta-appointed National Reform Council voted 135-to-105 to reject the charter – prepared by another junta body and widely opposed elsewhere – on Sunday under pressure from the military government.
Only three military members of the council voted in favor of the draft constitution, for which its chief drafter thanked them after the votes were counted.
"Well, as for the others, they have to listen to their bosses. It's normal. It's natural," Bowornsak Uwanno of the now-defunct drafting committee said Sunday after the vote. "We understand each other. Even on the drafting committee, there was one abstention, because he was recently appointed a general. He still has to be in the service. He has to be that way. It's understandable."
Although politicians and observers across the political spectrum were happy to see its defeat, Sunday's vote meant a new one must be written, a process that under the rules set forth by the military government requires up to 20 months to complete.
The newest "roadmap" means that by the time a new election is held, Thailand's junta will have hung onto power longer than any since Field Marshal Thanom Kittikachorn called an election in 1969, ending 12 years of military rule. Since then, no military junta has held power for more than two years except for Kriangsak Chamanan, whose 2.5 years in power ended in 1980.
The junta's existing interim constitution mandates a deliberate pace for the process.
First, it has 30 days to appoint a new 21-member Constitution Drafting Committee.
That body will have six months to draft the new legal template, which will skip secondary approval and go straight to a public referendum, possibly in July 2016. If voters adopt the constitution, six months will be spent writing the body of laws, rules and regulations under its purview. Following that, it will take four-to-five months to organize a general election in June 2017 at the earliest.
Under the previous "roadmap" to civilian rule set by the junta, general elections would have been held by the end of 2016.
Sunday's no-vote was mostly led by hardline, pro-junta members who believe junta chairman Prayuth Chan-ocha should stay in power to complete his mission of national reform prior to allowing public elections.
However the charter draft was strongly opposed by politicians from Thailand's two major parties – Pheu Thai and Democrat – on the grounds it would undermine future elected governments by codifying a mechanism for the military to seize power.
Progressive activists said the draft would have rolled back democracy in Thailand.
"We demand the authorities to set up a constitution drafting assembly of elected members, so they can draft rules that are democratic," student activist Chanoknan Ruamsap of the anti-junta New Democracy Movement said yesterday. "I promise the New Democracy Movement will continue with our campaigns. We are not cowed by the power of the military. Right now there are many students who are waking up and seeing injustice of the military government."
As an act of defiance, her group hung a banner denouncing the military junta and its draft constitution from a skywalk outside the Bangkok Art and Culture Centre. Plainclothes police officers soon arrived and removed it; all political activities are currently banned by the junta.
To reach us about this article or another matter, please contact us by e-mail at: [email protected].