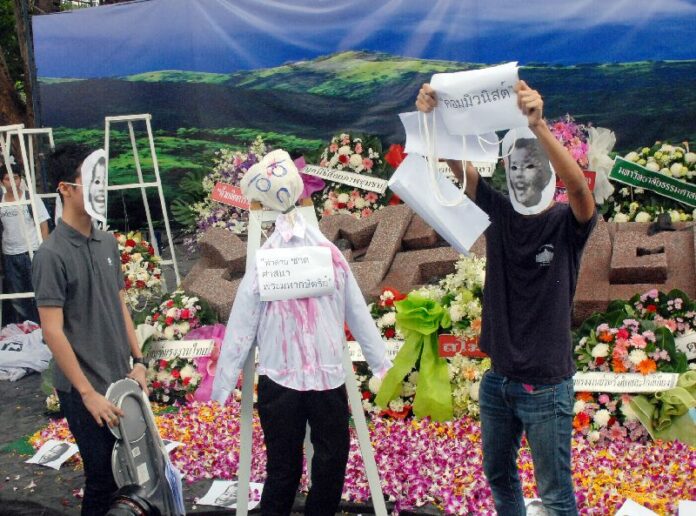 BANGKOK — In a rare exception to its sweeping ban on protests, the military junta today did not interfere with an event to commemorate the massacre of student activists at Thammasat University 39 years ago.
The ceremony was organized by several activist groups at Thammasat's Tha Prachan campus, where security officers and right-wing vigilante groups killed at least 46 people in their attempt to disperse a peaceful rally by leftist students in 1976, an event now known as the October 6 Massacre.
"I'd like to pay my respect to souls of the martyrs who passed away, and to survivors of 6 Oct.," said Prapassorn Thongsin, whose brother Jarupong Thongsin died that day. "I salute the struggle of these people."
Jarupong's body was never found, though photographs of the attack suggested that he was shot to death.
Today's activities include religious service, speeches, symbolic performance and a brief march to a tree across the street from Thammasat where one of the massacre victims was lynched and mutilated by a mob of right-wing hooligans. Around 50 people attended the event this morning.
Official records say 46 protesters – mostly student activists – died as a result of assault on Thammasat by heavily-armed police officers and paramilitary forces on the morning of 6 Oct. 1976 The authorities at the time accused the protesters of being "Communists" who were plotting to overthrow the monarchy.
The military launched a coup d'etat to "restore order" at same evening.
The 6 Oct. massacre remains a taboo subject in Thailand – school textbooks rarely mention it – largely due to the involvement of officials and staunch royalists who spread accusations that the students were anti-monarchy Communists for months prior to the attack.
No official has ever been prosecuted for the massacre, thanks to a 1978 amnesty for both perpetrators and victims of the incident.
A number of police officers observed today's ceremony but did not interfere. Last year, Thammasat University restricted the memorial event to only religious activities of a "politics-free" nature, possibly to comply with the ban on protests imposed by the military junta that had seized power five months earlier.
Since staging the coup in May 2014, the junta has outlawed protests and other political gatherings, in the name of restoring peace and order to the country.
Vipa Daomanee, one of the event organizers, said she believes the junta did not disrupt this year's commemoration because it is formally held by Thammasat University.
"Professor Nakarin probably has some connections [to the junta]. He helped coordinate things," Vipa said, referring to Nakarin Mektrairat, Thammasat University's deputy rector.
She also alleged that Thammasat administrators told the event organizers not to hold any activities other than laying down wreaths and offering alms to monks.
"They even threatened to unplug loudspeakers if we did anything more than that," Vipa told Khaosod English in a phone interview.
Vipa said organizers eventually decided to disregard the university's request. "This year, we go all the way, because we can't just please those in power all the time … Thammasat should have some courage and take a stand for democracy."
Progressive activists in recent years have accused administrators of Thammasat University of betraying its long tradition of supporting democratic principles by shifting to a more conservative, pro-establishment stance.
The current rector, Somkit Lertpaithoon, came under criticism from anti-junta factions for agreeing to serve in the interim parliament appointed by the military junta after the coup.
At 6:30 this evening pro-democracy activists "Resistant Citizens" said they have received approval from police to stage their own event at the memorial.
Related stories:
1976 Student Massacre Remembered in 'Politics-Free' Commemoration