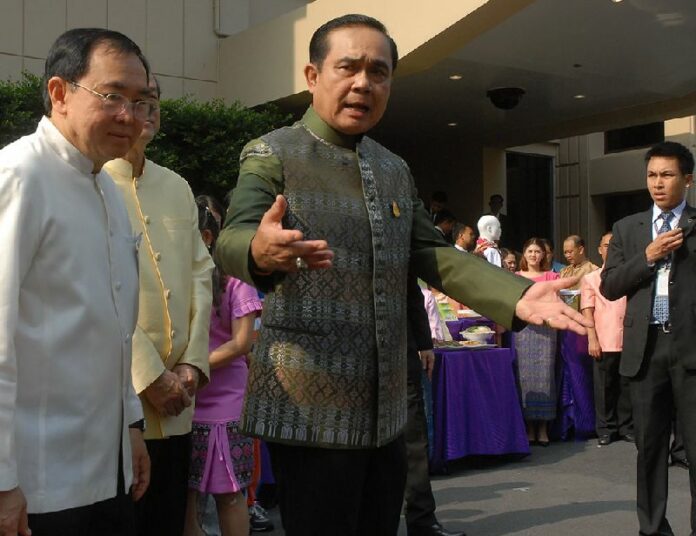 BANGKOK — Online activists have announced they will launch attacks against the government beginning Thursday after the prime minister said the project to route all internet traffic through a single point of control is still alive.
The coalition of anonymous internet users known as Citizens Against Single Gateway last night warned private sector operations with IT systems linked to government servers to transfer them to safe places before the assault on government systems begins at 10am on Thursday.
Those behind a crippling attack earlier this month, the Thailand F5 Cyber Army, issued the announcement yesterday after Prime Minister and junta chairman Prayuth Chan-ocha said agencies are still studying the project, and a widely circulated army intelligence report detailed efforts to monitor news sites, social media and "influential thinkers" threatening the nation.
"What important is your moral trait. …You always need freedom but ask for security and respect of human rights, but how can that be possible?" Gen. Prayuth said. "No, it isn't. Because everyone is self-centered and always blames the law but never blame themselves."
---
Internet Activists Declare 'Cyber War' on Junta
---
Although the government had earlier responded to the public uproar by playing down its goal of building a single gateway for all internet traffic – instead of the current 10 – Prayuth said there's no other way to stop people from attacking his government.
"If you say we should not have the single gateway, can you prevent your group from writing things that defame the nation and government? If you can't, then don't tell me what method should be used."
Just last week, the Minister of Information and Communication Technology said at an economic forum the plan had been scrapped, with the government focused on moving forward with developing its digital economy policies.
"If a single gateway means we only have one door or one window, then there is no such thing," Minister Uttama Savanayana said Thursday.
The online activists claim to have 20,000 members ready to join their campaign, with thousands being trained online. The statement expressed disappointment in the government's handling of the issue and accused officials of insincerity.
"This is 2015, not 1857. The world has moved forward a long way," read the statement published online yesterday. "…To block information from the outside world is no longer possible."
On Sept. 30 an unsophisticated attack – rapidly refreshing web pages to overwhelm their servers – was used to bring down a number of state agencies online, including those of the Ministry of Information and Communication Technology, CAT Telecom, Ministry of Defense, Government House, Internal Security Operation Command and Democrat Party.
Last night Facebook user "Somjate Pojananaan," who helped to first bring the single gateway project to public attention, called attention to an intelligence report posted to the website of the Royal Thai Army. The report, from the first meeting of the Army Cyber Center, is a summary of the unit's strategy, procedures and operations to counter what it identifies as online national security threats.
One slide in the report detailed the cyber unit's monitoring of online influencers mapped together as a network threatening the nation. Another page identified news sites, social media platforms and chat applications targeted for "monitoring and inspection."
After it came to attention last night, the file was briefly taken offline and then replaced with a version excluding those pages.
News source and social media targeted for 'monitoring and inspection' in a page subsequently removed from an intelligence report from the army's website after it was publicized last night.
A network of "influential thinkers" identified as posing a national security threat was detailed in a page subsequently removed from an intelligence report from the army's website after it was publicized last night.
The individuals identified at the top of that network, former Thammasat University lecturer Somsak Jeamteerasakul, dismissed the chart as grossly inaccurate.
"It's nonsense," Somsak, who is living in exile in France, wrote on his Facebook last night.
He likened the report to the infamous "Anti-Monarchy Chart" compiled by the military in 2010, which listed dozens of activists and academics as members of an alleged republican movement. After a lecturer named in the chart sued the authorities for libel, army spokesman Sansern Kaewkamnerd admitted to the court in 2011 that he could not vouch for the document's accuracy.
In his written comments, Somsak also expressed disbelief the army listed him as a key "influential thinker" in the slideshow. "They honor me too much (I'm embarrassed!)."
The Cyber Security Operation Center and other online operations sought 80 million baht in funding for the 2015 fiscal year, according to the document.
Additional reporting Teeranai Charuvastra
Related stories:
Internet Activists Declare 'Cyber War' on Junta
Cyberactivists, Govt Don't Blink on 'Single Gateway'
Activists Issue Ultimatum to Junta over 'Single Gateway'
Junta Readies 'Great Firewall of Thailand'
Cyber Activists Bring Down Govt Sites to Protest 'Single Gateway'
To reach us about this article or another matter, please contact us by e-mail at: [email protected].
Follow Khaosod English on
and
Twitter
for news, politics and more from Thailand.