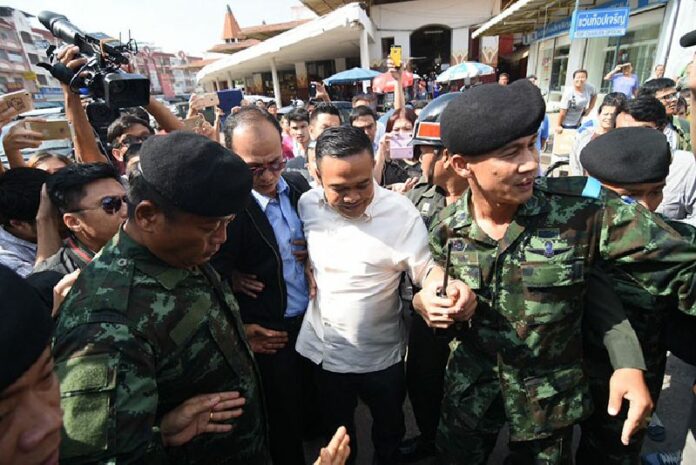 BANGKOK — Redshirt leaders are calling for the immediate release of two of the movement's top figures detained by the military this morning on their way to "investigate" alleged corruption at a historical park.
Worachai Hema and Korkaew Pikulthong, both politicians from the former civilian government, urged the military government to immediate release Jatuporn Prompan and Nattawut Saikua, who were intercepted by soldiers southwest of Bangkok at about 10:00am on Monday.
Taken into custody as reporters looked on, Jatuporn and Nattawut had earlier vowed to tour the Rajabhakti Historical Park in Prachuap Khiri Khan province to highlight alleged graft in the 1 billion-baht project completed by the army in August.
"Does it show that the issues about corruption in Rajabhakti project are true? That is why the government is blocking the people's right and freedom to investigate these issues," said Worachai, who served as an MP in the Pheu Thai-led administration overthrown last year. "The government is acting suspicious."
---
Redshirt Leaders Detained En Route to Rajabhakti Park
---
Announcing they would travel to the park – then stopping to hold a news conference after acknowledging they were under military watch – appeared to be calculated provocation by the pair, who as two of the most vocal and visible leaders of the Redshirt movement have been detained and charged numerous times.
Korkaew Pikulthong, another former MP and Redshirt leader, said Jatuporn and Nattawut were merely trying to visit the actual site of Rajabhakti Park in order to help determine whether the reports of corruption in its construction have any basis.
"As a Thai and a fellow ideological friend of Mr. Jatuporn and Mr. Nattawut, I'd like to request Prime Minister Prayuth Chan-ocha order the military to release both men immediately, without condition," Korkaew said.
The former politician also asked the junta to conduct an impartial and transparent inquiry into the park's construction, "and allow the public to participate and question the information without any obstruction or intimidation."
Nattawut Saikua is led away from a news conference Monday morning southwest of Bangkok in Samut Sakhon province.
The junta has not confirmed where Nattawut and Jatuporn are being held, but media reports indicate they were taken to a Ratchaburi province army base.
The official umbrella organization of the Redshirts, the United Front of Democracy Against Dictatorship, UDD, has indicated it will soon make a statement on their arrest.
The army has said its internal review of the park it built found no evidence of corruption. Since the park has gone from a triumph to embarrassment for the military and ruling junta, critics from across the spectrum have seized on the matter as vulnerability.
This afternoon one of the Redshirts' civilian political rivals warned the junta not to be baited into heavy-handed action by arresting Redshirt leaders.
"The government has to be careful. It must stay calm, because it is facing provocation to use force in some way," said Wirat Kallayasiri, head of the Democrat Party's legal division. "It will become a tool for anti-government faction to publicize the news around the world. This incident will benefit someone."
In the past month the military government has been dogged by accusations of corruption at the park, a massive royal monument complex constructed by the army from November 2014 to August 2015.
Rajabhakti Park in Prachuap Khiri Khan province
Fed by information from anonymous sources, the media has reported about financial irregularity and unusually expensive material used in the park's construction. Former army chief Udomdej Sitabutr, who oversaw the project until he tired in October, admitted that some of the reports were true.
However the army announced Nov. 20 that an internal inquiry found no corruption in the project. On Nov. 24 the Defense Ministry announced another review would be conducted. Junta leaders have repeatedly warned the media not to dig into the alleged graft.
"I'd like to ask you not to fan the news about this, because you may end up being used as a tool for some group. It will become a fight," Prime Minister and junta chairman Prayuth said Nov. 24. "Let me insist that I'm not siding with or covering up for anyone. Why would I cover up for anyone?"
Sparks Over Park 's 'Investigation'
During the weekend, Nattawut and Jatuporn posted online that they were unsatisfied by the military government's response to the scandal and vowed to conduct their own "investigation" by touring the site Monday.
Nattawut also published photos of soldiers watching him at his residence.
"They were here since 5 o'clock in the morning. Looks like they came prepared to camp out here tonight," Nattawut wrote Sunday. "Let me speak to you man to man: If you have problem with me, talk it up with me. My wife and children are not involved. This is the way I am. Tomorrow I will go to Rajabhakti Park."
It's unclear what exactly they intended to achieve had they made it to the park, or whether provoking the junta, which has banned all political activities, was the goal.
Today leaders of the junta, known officially as the National Council for Peace and Order, insisted the military had to detain Nattawut and Jatuporn in order to deter unrest in Thailand.
"We have a duty to take care of peace and order. This is not a normal situation. The NCPO is here to take care of any unrest in the country," said Gen. Anupong Paochinda, a member of the ruling junta. "If the NCPO decides that something will cause unrest, we have to stop it."
Still, he added, it was an unfortunate necessity.
"I'm not saying that the arrests [of Jatuporn and Nattawut] are good," Anupong said. "But if anyone wants to cause unrest or incidents, forget about it. We won't let that happen."
Related stories:
Prayuth's Brother Appointed to Lead Review of Rajabhakti Park Graft
No Corruption in Rajabhakti Park, Army Rules
Rajabhakti Park Corruption Report Out by Tomorrow, Army Says
To reach us about this article or another matter, please contact us by e-mail at: [email protected].
Follow Khaosod English on
and
Twitter
for news, politics and more from Thailand.