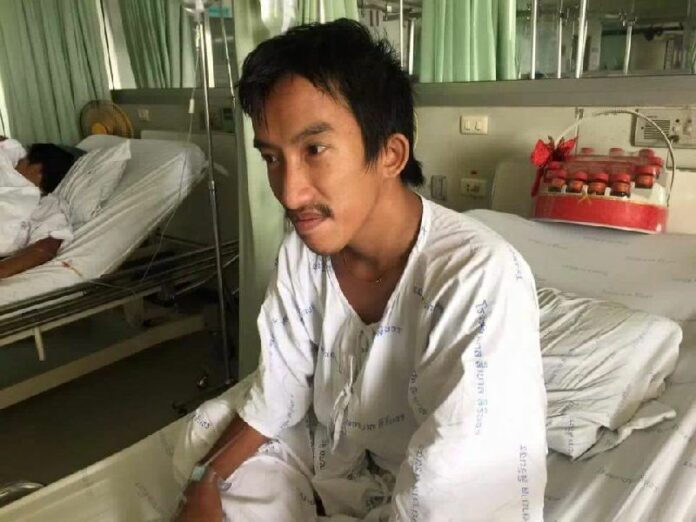 BANGKOK — Sedition suspect Thanet Anantawong, released on bail last night, said plainclothes security officers arrested him inside his room at Sirindhorn Hospital while he was consulting with nurses in the pre-surgery ward on the building's seventh floor, his associates said today.
Piyarat Chongthep, a confidante and friend who picked Thanet up after a military court granted bail to the 25-year-old activist, said Thanet confirmed the details of his arrest, which contradict the versions offered by both security and hospital authorities.
Thanet could not be immediately be reached for comment. Piyarat said that Thanet, who is said to be homeless and living in poverty, was visiting family and did not possess a mobile phone.
---
Circumstances of Patient's Arrest from Hospital Disputed
---
Piyarat described Thanet's account Saturday. Thanet told him he was talking with nurses in his room at the hospital when he was taken into custody and removed from the hospital, meaning he was not technically lying in his sickbed when he was removed, word of which drew an outcry on social media following his arrest.
Thanet's reported version of events contradicts the explanation provided to Khaosod English by Sirindhorn Hospital Director Supaporn Karalak. Supaporn said Wednesday that Thanet had discharged himself from the hospital prior to his arrest, which she bolstered Friday by adding that she had personally seen security camera footage showing him walk out of the building alone. She declined to let a reporter view the footage.
Thanet also reportedly told Piyarat that while being detained by the military, a doctor was taken to examine his health, who told the military to fetch medicine from the hospital where Thanet had been admitted since Dec. 10 prior to his arrest Dec. 13.
After he was released last night, Thanet was taken to be examined by a doctor at another facility, Petchkasem Hospital, and the doctor gave him additional antibiotics.
Brought before a military tribunal on Friday, Thanet was charged with sedition for "spreading" the activities of pro-democracy group New Democracy Movement, of which Piyarat said Thanet counts himself a member.
Related stories:
Circumstances of Patient's Arrest from Hospital Disputed
Condition of Suspect Removed from Hospital Unknown