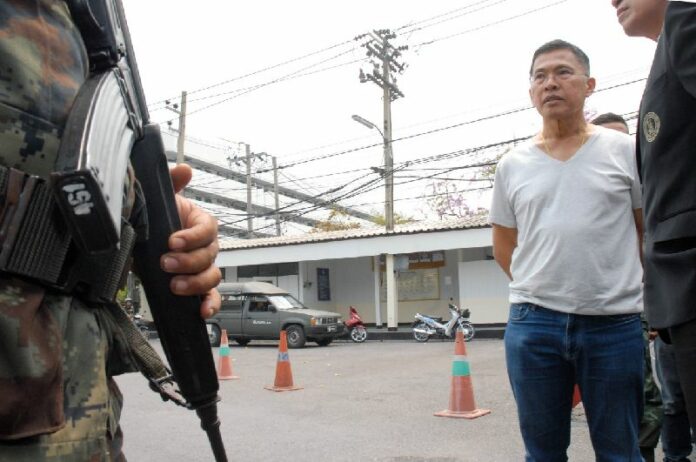 BANGKOK — The junta has put the final touches on a seven-day reeducation program reserved exclusively for politicians to be held at military bases, the army chief said today.
The invitation-only program is meant for the junta's persistent critics. It is currently seeking "students," Gen. Teerachai Nakwanich said Friday, referring to those who will be forcibly enrolled.
"This course is not available by application," he said. "It's only for those who cannot make sense, so we must call them to create understanding."
Teerachai admitted he already has a list of students in hand, which he described as the usual suspects.
"The course will take place at military bases nationwide including those in Pattani and Yala," he said.
The idea of a "learning course" for politicians was first raised Monday after two former Pheu Thai MPs, Watana Muangsook and Worachai Hema, were summoned for "attitude adjustment" sessions.
Prime Minister Prayuth Chan-ocha on Tuesday said the course is designed to create better understanding of the military government's work among the politicians who always criticize him.
The content will consist of topics as such politics, good governance, morals and ethics.
Prayuth said the seven-day program will not involve any torture or threats.
Junta spokesman Col. Piyapong Klinphan on Wednesday said it will target those who criticize the draft constitution or make comments against the junta.
The reeducation program will come into effect before a referendum is to take place, likely on Aug. 7, for the public to adopt or reject the draft constitution prepared under the junta's supervision.
Organized dissent or opposition to the charter has been all but banned.
Piyaphong said the military will notify in advance the families of those it intends to bring in.
Watana Muangsook wrote Friday on Facebook that the program's aim to silence critics because the election is going to take place soon is in fact a misunderstanding.
"As the NCPO takes charge over the country, that is why they have to let people keep check on their power," he wrote. "For the draft constitution, as it is during the process of referendum, they must let every party express comment thoroughly, whether they agree or oppose it."
Related stories:
Activists Expect Increased Use of Detention Before Charter Vote
Watana Charged for Criticizing Junta Deputy Chief's 'Sexist' Comments
Red Shirt Leader Jatuporn Summoned for Attitude Adjustment
Junta Bars Pheu Thai's Watana From Leaving Country
Soldiers 'Politely' Stalk Pheu Thai Politician
Politico Accuses Soldier of Punching Him
Ex-Pheu Thai MP Appeals Junta's Travel Ban