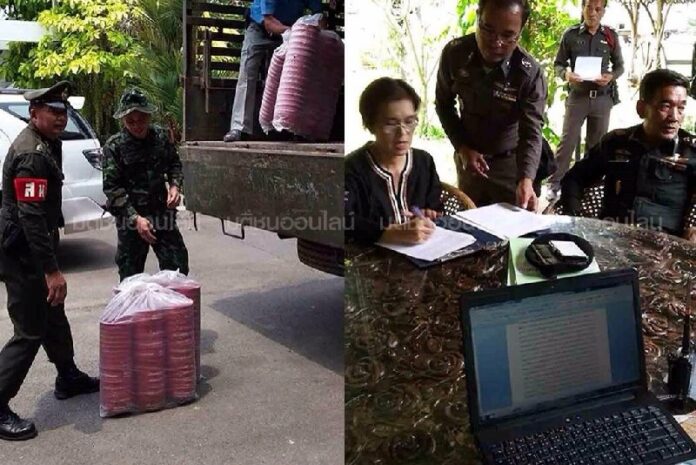 By Pravit Rojanaphruk
Senior Staff Writer
NAN — More than 30 soldiers and police raided the house of a former Pheu Thai politician at 11am Saturday in Nan province confiscating thousands of red plastic water bowls.
The buckets bearing signatures of ousted and fugitive former premier Thaksin Shinawatra and his sister, former Prime Minister Yingluck Shinawatra, have become the latest symbol of support for the siblings. They have also become a show of continued defiance against the ruling military regime, after a 57-year-old woman was recently charged with sedition for posting a picture on Facebook of herself posing with the controversial water scoop.
Theerawan "Wan" Charoensuk, 57, faces a possible prison term of 7 years if found guilty.
---
Woman Charged With Sedition For Posing With Red Bucket
---
According to Matichon News, piles of red buckets, counted at 8,862 pieces by officers, were taken away on a military truck from a house in Nan, co-owned by Sinrinthorn Ramasutra and Poonsuk Lohachote, both former Pheu Thai MPs for Nan province; a northern stronghold for the Shinawatras.
A further 1,500 red buckets were later rounded up and removed in a raid on the office of another former Pheu Thai MP for Nan province, Cholnan Srikaew.
The red bowls were intended to be a Songkran gift to Thaksin-Yingluck supporters. The Thai New Year, or Songkran, is just eleven days away. The buckets contain a printed message saying: "Although the situation is heated, it's hoped that brothers and sisters would be soothed by the water [in the bucket]."
The raid was led by Pol Col Prayoon Chamnankong, superintendent of Nan police station and Maj Gen Chainarong Kaewkla. The officers say giving away the buckets offers an unfair political advantage to the party and if the Democrat Party doles out water containers in a similar manner, they too would be confiscated.
Prayoon said such action violates Article 116 of the Penal Code: sedition. It's unclear at the time of publication if the two MPs will face charges as the red buckets had not been distributed.
Attempts have also been made by the Nan provincial branch of the National Council for Peace and Order, the formal name of the junta, to suppress the news of the confiscation but it failed.
On social media, some were joking about the raid. Anurak Jeantawanich, who has campaigned every Sunday in Bangkok for a number of weeks against the junta-sponsored draft charter, wrote that it was so funny that red plastic water buckets have become a threat to national security.
Another Facebook user, "Chas T Mass", put up two photos, the top one showing a raid for weapons and drugs while the lower picture shows the red bucket raid in Nan today.
"What are soldiers for?" read his caption.
Police Confiscate 'Red Bowls' From Yingluck Supporters
Thai Rath Reporter Taken to Army Base for 'Red Bowl' Report
Woman Charged With Sedition For Posing With Red Bucket
Follow Khaosod English on Facebook and Twitter for news, politics and more from Thailand. To reach Khaosod English about this article or another matter, please contact us by e-mail at [email protected].