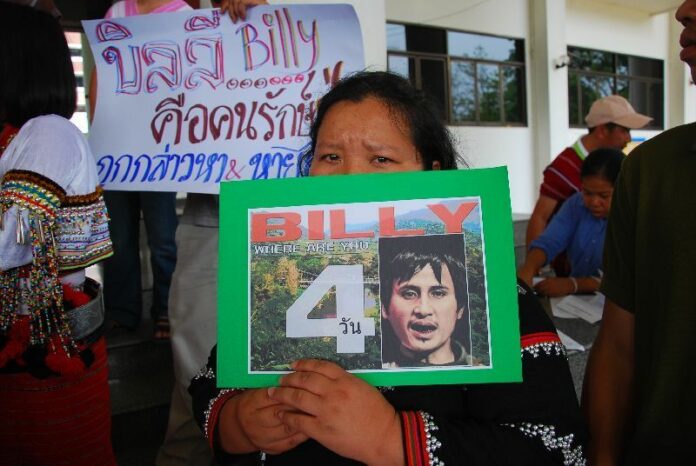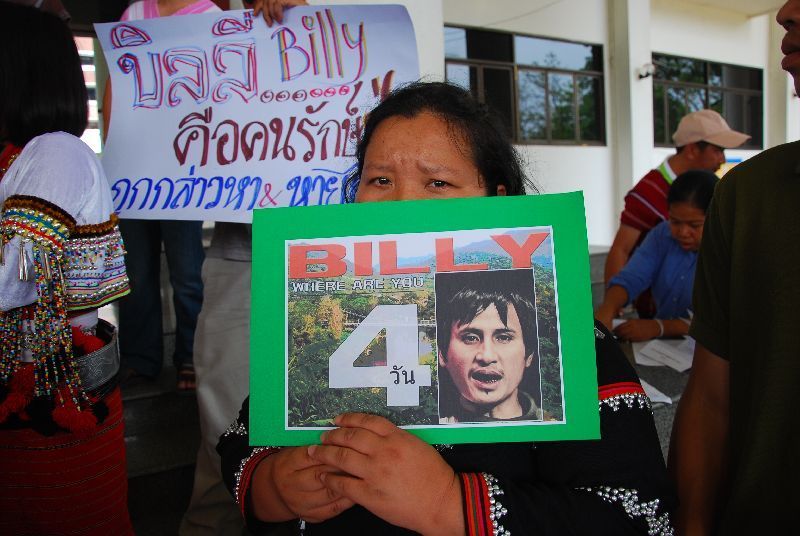 BANGKOK — The human rights community today signaled cautious optimism about the interim cabinet's move to criminalize torture and enforced disappearance by public officials in Thailand.
Endorsing the bill nine years after its adoption was first urged, the cabinet's resolution said the law would "enhance the effectiveness" of existing laws and serve "to raise human rights protection in Thailand to the same par with the international standard," according to an unofficial translation.
Read: UN Urges Thailand to Make 'Forced Disappearance' a Crime
Pornpen Khongkachonkiet, a prominent human rights defender, said that while the cabinet's endorsement was a positive step, the bill would still have to pass bureaucratic legal scrutiny and approval from the junta-appointed legislature.
The United Nations counts 82 unresolved cases in Thailand since 1992.
Eradicating torture and enforced disappearance is a broader challenge one law won't fix, said the director of rights group Cross Cultural Foundation. Especially if that law is later amended with exemptions and loopholes.
"Ten years from now, it will still happen," Pornpen said. "It's like the fact there are laws criminalizing rape and murder, but we still see it happening. Changing the attitude of state officials is necessary."
In its present form, the bill forwarded by the Justice Ministry states that officials found guilty of committing torture or forced disappearance face up to 20 years in prison and 30 years if it results in serious injury. In cases where someone is tortured to death, the maximum penalty is life imprisonment.
Officials are broadly defined to include those holding political positions and employees of state agencies to local administrators.
The U.N. Human Rights Office for Southeast Asia welcomed the news in a statement Wednesday which went on to point out the 82 unsolved cases enforced disappearance in Thailand. Enforced disappearance is international law-speak for secret abduction by state or political players.
It called on the Thai government "to promptly fulfill its commitment to ratify" a 2002 treaty which created an international inspection system for detention facilities, prisons and similar facilities.
The disappearance of activists and political opposition figures isn't a bygone part of Southeast Asia's darker times. In 2014, Karen activist Porlachee "Billy" Rakchongcharoen was last seen in the custody of a national park director he'd brought legal action against. While Billy is presumed dead, his fate has never been made known and his suspected abductor, Chaiwat Limlikhit-aksorn, never prosecuted.
The law approved Tuesday, if enacted, would establish a 10-member committee to handle cases involving alleged torture and enforced disappearance. Depending on the composition of the committee, Pornpen said there could be conflicts of interest because it would have to interface with other state officials.
She suggested some members be drawn from civil society to ensure a good mix.
The veteran rights activist has her doubts the military regime is committed to it, as she believes it's giving the issue a nod in order to please the international community after incidents such as the discovery last month of a mysterious site in Udon Thani province where the burnt remains of dozens of people were dumped.
Of the 82 cases tracked by the United Nations, Pornpen said 30 or so involved those who disappeared during the May 1992 uprising against military dictator and prime minister Gen. Suchida Kraprayoon, who ordered troops to open fire on protesters on Ratchadamnoen Avenue.
She ascribed another 30 or so to separatist violence in the Deep South.
Related stories:
UN Urges Thailand to Make 'Forced Disappearance' a Crime
Karen Rights Activist and Key Court Witness 'Disappears'
Activists Mark 11th Anniversary of Human Rights Lawyer's Abduction
Court Dismisses Request for Emergency Trial to Find Missing Karen Activist