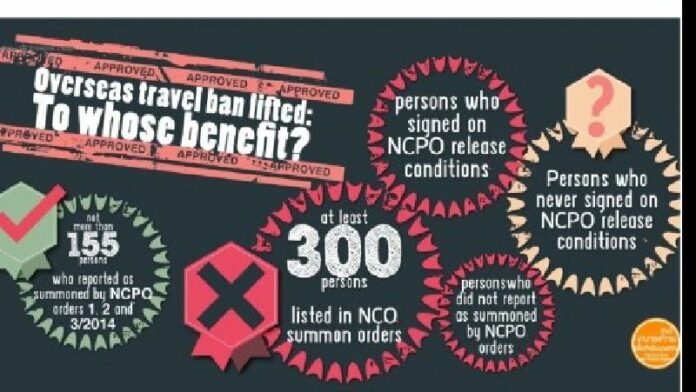 BANGKOK — The junta's lifting of the travel ban against critics does not apply to all. Critics who signed papers agreeing to seek the junta's prior permission are excluded from the lifting of the ban, according to Thai Lawyers for Human Rights.
Junta spokesman Col. Winthai Suvaree said Thursday that he would have to check the details with the legal team of the National Council for Peace and Order (NCPO). As of Sunday afternoon Winthai has not provided any further comment on the issue.
"The intention [of the order lifting the ban] is that there should be no seeking of permission except those facing charges or those who have never reported [to the junta]," said Winthai on Thursday.
The rights lawyers group gave a different reading of the NCPO order passed May 31 and effective from June 1.
"The revocation of the overseas travel ban on individuals may appear to present an ease on government restrictions of rights and freedoms, [but] it benefits only a limited number of persons, and may even impose additional restrictions," TLHR said in a statement.
Pawinee Chumsri , a member of TLHR, said her group's interpretation of the NCPO order is that only as many as 155 individuals, mostly politicians, would benefit from the lifting of the ban.
According to Pawinee, about 300 people will still have to seek permission from the junta.
This includes those who have been summoned later, or summoned twice for what the junta called "attitude adjustment," with some detained without charge for up to seven days.
Pawinee said if the reading by the lawyers' group is inaccurate, the junta should come clean and clear the air. She added that a litmus test would be for any of the 300 or so individuals to try to test the supposed lifting of the ban by attempting to leave the kingdom without seeking the junta's permission.
"It can be tested and you won't have to go to prison. They just won't let you leave the country," said Pawinee.
However the memorandum of understanding many signed stated that if the conditions in the terms of agreement have been violated, the person would be tried in military court and face a possible two-year maximum jail term.
Asked if this means the junta lied to the public when its leaders said earlier in the week that no one will have to seek the junta's permission to travel abroad any longer, Pawinee said "Yes. Was it a lie? Well, they didn't spell out the whole truth. The benefit is miniscule. The [NCPO] should make it clear that no one needs to seek their permission anymore."
Related stories:
Two Years On, Bank Accounts of Two Critics Still Frozen
Critic's Passport Revoked as Junta Reaffirms Ban on Criticism
Thai Professor's Passport Revoked by Junta