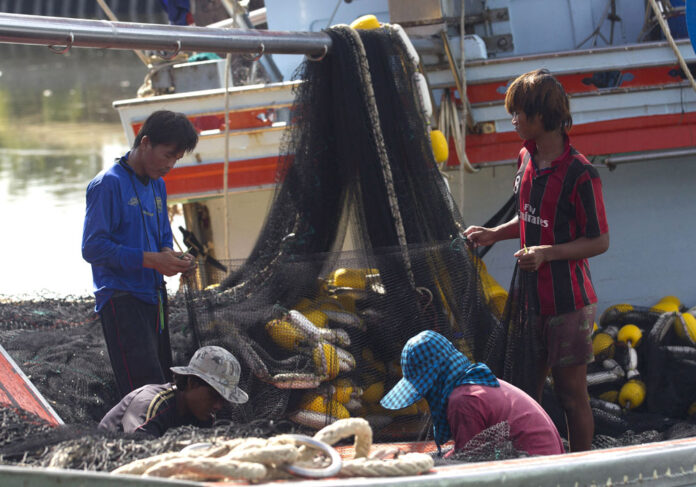 WASHINGTON — The U.S. has removed Thailand from its human trafficking blacklist, though forced labor is still widespread in the nation's lucrative seafood industry.
The State Department made the assessment in its annual Trafficking in Persons Report, which examines the efforts of 188 governments in fighting modern-day slavery.
Read: Positive Reaction to US Upgrade of Thailand in Trafficking Report
The report's section on Thailand is far from sparing. It identifies the kingdom as "a source, destination, and transit country for men, women, and children subjected to forced labor and sex trafficking."
"Thai victims of trafficking and some of the estimated three to four million migrant workers in Thailand are forced, coerced, or defrauded into labor or sex trafficking," it continues. "Some labor trafficking victims are exploited in commercial fishing and related industries, factories, agriculture, and domestic work, or forced into street begging. Migrant workers who are trafficking victims may be deported without effective screening for indicators of trafficking. Sex trafficking remains a significant problem in Thailand's extensive commercial sex industry."
However, it finds that although Thailand does not meet the minimum standards for eliminating trafficking, "it is making significant efforts to do so."
"The government amended its 2008 anti-trafficking laws and other laws related to forced labor in the fishing and seafood industry, which increased criminal and civil penalties on traffickers, allowed for the closure of businesses involved in forced labor, and provided legal protection for whistleblowers," it reads. "The government increased the numbers of investigations, prosecutions, convictions, and victims identified in 2015, compared with 2014."
Key U.S. trading partner Malaysia was taken off the blacklist controversially in 2015, soon after the discovery of mass graves of suspected trafficking victims. Malaysia retains its ranking, though it has initiated fewer trafficking investigations and prosecutions in the period covered by this year's report.
The report was released by Secretary of State John Kerry, who calls it an attempt to bring public attention to the full nature and scope of the $150 billion human trafficking industry.
Story: Matthew Pennington, Khaosod English