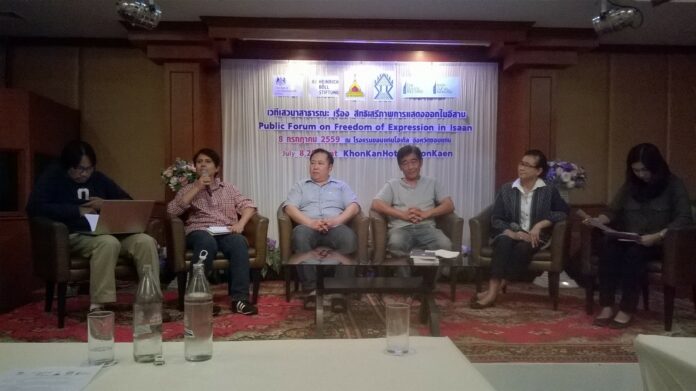 KHON KAEN — Some in Khon Kaen and other northeastern provinces feel they're still regarded as inferior to those in the capital.
At a symposium organized Friday to discuss freedom of expression in the northeast – one that began only after soldiers threatened to arrest anyone discussing certain topics – speakers said their political struggle is doubly difficult under the current regime where there's even more restrictions on expression.
"I don't see how Isaan people will be accepted as equal citizens in the near future," said Saowanee T. Alexander, a lecturer at Ubon Ratchathani University's Faculty of Liberal Arts and Isaan native. "It's quite clear when we look at the language wherein we speak the Northeastern dialect in Bangkok we have to speak softly."
Saowanee spoke at the panel organized by The Isaan Record, whose mission to promote greater awareness about the northeast, and funded by the British Foreign and Commonwealth Office and Germany's Heinrich Boll Foundation. In full disclosure, this reporter was also a participant.
Understanding what it means to speak a dialect other than that of the nation's administrative and economic center is important, said Nirand Pitakwatchara, a former National Human Rights Commissioner who lives in Ubon Ratchathani province.
Nirand pointed out those speaking the Isaan dialect feel inferior to people speaking central Thai. What's more, some Northeastern folks are not as adept at speaking central Thai and unable to articulate themselves as well in the dialect which dominates national media. That's why community radio in the region has become such a hit over the past decade, Nirand said.
Nirand said the poor in the Northeast suffer more when prosecuted by the junta for fighting for environmental and community rights since the 2014 coup. Some parents have had to withdraw their children from school because they had to spend money on court cases. Worse, some have been physically assaulted by unknown assailants.
"The price they paid was dear," Nirand said.
Khon Kaen Redshirt leader Panawadee Tontisirin refused to accept an imposition of superiority from Bangkok and the widely held stereotypes of Northeasterners as gullible and easily manipulated by venal politicians.
"The saying that Bangkokians are superior is your own thinking. But now we are equal. I want to say that Isaan people have risen and they are civilized and will persevere. They don't want to resort to violence as long as the [junta] security apparatus doesn't pressure us too much. Soldiers should not look at us like enemies," Panawadee said, as military and police officers filmed the session.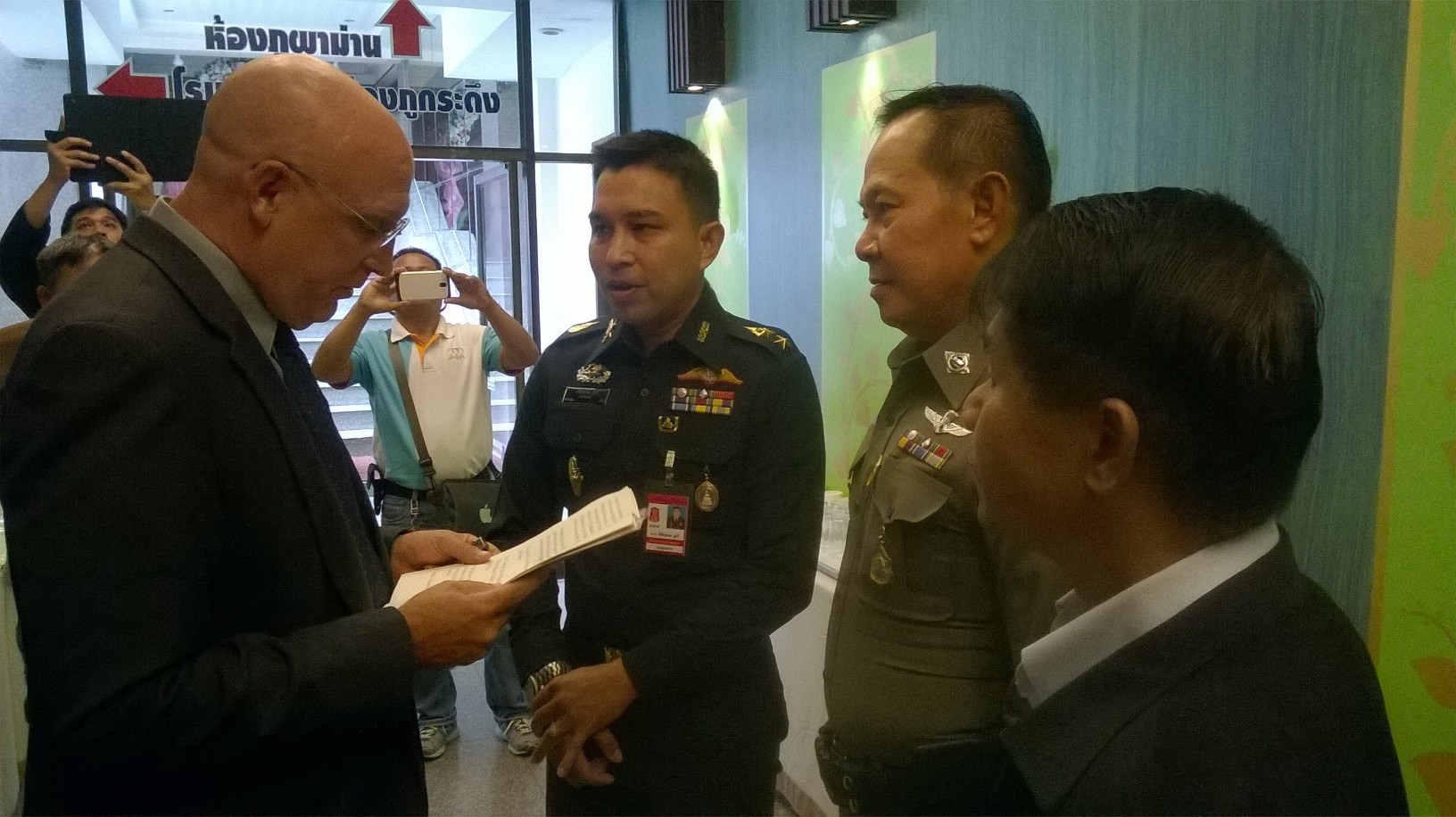 At the outset of Friday's discussion, security forces threatened to prosecute anyone who speak about politics or the lese majeste law, which punishes anything deemed defamatory to the monarchy with up to 15 years in prison.
Thammarat Sa-ngiamsri, a Khon Kaen-based community organizer, spoke as someone affected by Public Assembly Act which bans gatherings of more than four people for anything deemed a political purpose.
He made no secret of the fact he didn't feel free to speak even at Friday's forum, where speakers included the Swedish Ambassador Staffan Herrstrom, who talked about the importance of press freedoms in his country.
"I don't think I can say much today because I may overstep the limits of freedom of expression. These days I have to even be careful about clicking 'Like' on Facebook, so you can imagine what it's like in real life," Thammarat said.
Another speaker, Sabina Shah, a Khon Kaen-based Redshirt former community radio host, recalled how she was blindfolded, tied up and incarcerated for a week after the 2014 coup while her husband was threatened by the junta.
"It was violent," said Sabina, her eyes brimming with tears. "… I will continue to call for our rights until we become the true owner of this country, however. People pay taxes, so why do we not have rights?"
Teerapol Anmai, a Khon Kaen writer and musician said people should have equal rights to express themselves, otherwise they are just like animals.
Teerapol compared the situation now under the junta like living under the surveillance of Nazi Germany's Gestapo.
"We hardly have any freedom. We must be careful of what we say and censor ourselves," he said.