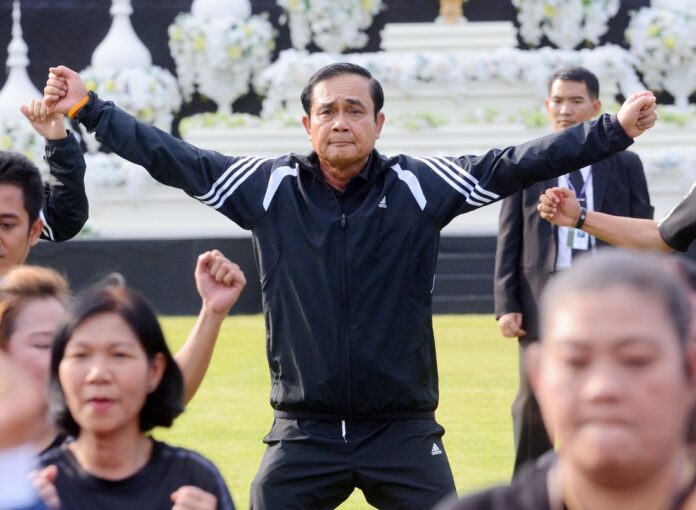 BANGKOK — Ninety minutes of mandatory weekly exercise imposed by junta chairman Prayuth Chan-ocha on all bureaucrats nationwide has been moved to a later time, apparently to ward off criticism that officials were forced to drop their work to comply.
Instead of starting at 3:30pm, the one-hour workout will start at 4:30pm every Wednesday, Interior Affairs Ministry ordered all provincial governors on Thursday. Each agency must also leave at least "one or two" officials on duty in case the public needs services, the new order mandated.
Read: Prayuth Orders 'Workout Wednesdays' for Officials
"Because missions of the Ministry of Interior Affairs mostly concern servicing the public, I hereby ask all provincial governors to consider servicing the public as the top priority," ministry secretary Krissada Boonrat wrote.
The letter did not cite any particular reason for the change, but it came two days after a sign posted at a state office in Udon Thani province went viral on social media and drew many negative comments. The sign, posted at the provincial Land Department office, said the agency would not accept or process anything in the afternoon because of the workout session.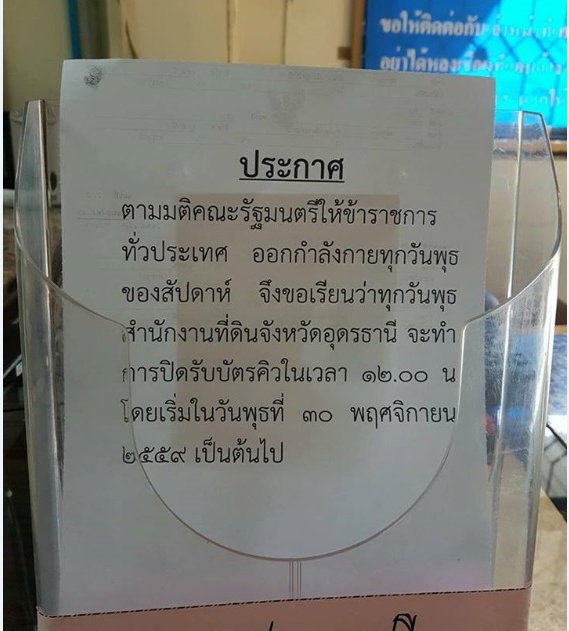 The work day of a bureaucrat usually begins at 8:30am and ends at 4.30pm.
"Frankly speaking, I think they shouldn't take time off for the workout," Sam Jetsadaporn Bunmee wrote in a thread of the Udon Daily. "When they work, they should work fully. It's taxpayers money that they receive. They already have many days off. They can just exercise after getting off from work."
Department head Chatchawan Cherdchaiyasakda apologized for the sign. Speaking to reporters on Thursday, the official said the office will work as normal every Wednesday.
"I just accepted this position three days ago, so I may have miscommunicated," Chatchawan said.