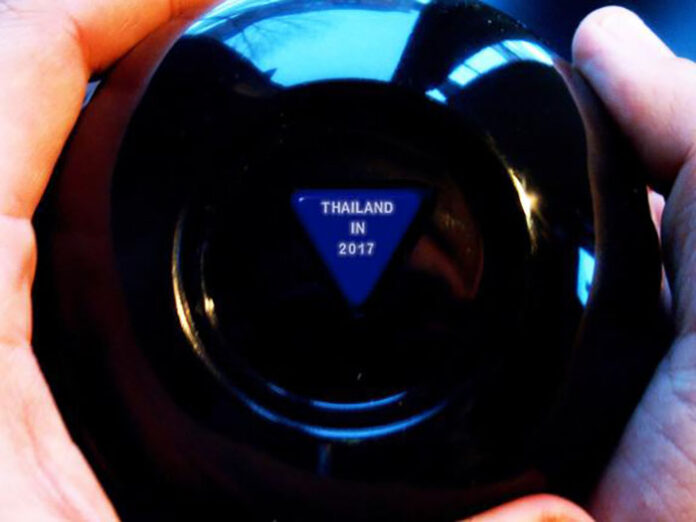 Will there be general elections by the end of 2017 as promised? Will the anti-cyber law movement escalate to become a threat to the junta? Will the economy further deteriorate and undo the military regime? These are some of the political possibilities raised by some when they gazed into the Magic 8 Ball for what's to come next year.
1
2017 Elections or No Elections?
The junta, formally known as the National Council for Peace and Order (NCPO) and its leader Gen. Prayuth Chan-ocha, have promised time and again for two years that there will be general elections, last revised for 2017. If they went ahead according to plan, that would be three years after they staged the May 2014 coup. Some are now concerned that promise won't be kept, and even some Thai media have speculated about it in recent months.
"I don't think there will be elections [in 2017]," said well-known student activist Netiwit Chotiphatphaisal of Chulalongkorn University. "I don't really have confidence in the promises of this government."
Netiwit and others like Suranand Vejjajiva, former secretary general to Prime Minister Yingluck Shinawatra, also cited the need to complete the funerary rites for King Bhumibol as a reason why elections may be forestalled. Labor activist Wasana Lamdee said it's difficult to know despite the junta's roadmap, as political parties are in disarray and must adjust to new election rules as well as rules regulating political parties and politicians. None has been finalised yet.
"I have no confidence," said Wasana, coordinator of an activist network dedicated to raising awareness of labor issues.
Not everyone rules it out. Democrat Party deputy leader Nipit Intarasombat believed next year would see general elections. He reckoned any deferment will require amending the constitution which would not be easy, as the charter was adopted in August in a public referendum.
"Amending it isn't easy. It's in fact difficult," Nipit said.
Thammasat University anthropologist Yukti Mukdavijitra also thinks there will be elections but for a different reason.
"The government is really shaky now. Faith in the regime is diminishing. I think it's time they allow for elections, " said Yukti, adding that sticking to a firm plan will ensure stability for the junta.
Return to top for next item.
2
Computer Crime Act, Economic Hardships and More Anti-junta Resistance?
Student activist Netiwit participated and organized activities critical of the military junta in 2016. The highest-profiled one saw him invite Hong Kong activist Joshua Wong in October to come and speak about democracy, only for Wong to be detained upon arrival and deported hours later.
"Next year will see more open protests [against the NCPO] by students and citizens," Netiwit said. "Those against [the junta] must have learned many lessons by now, and they should be on the offensive, but I don't know whether it will be successful."
The student activist even committed himself and some of his student peers to upping the ante against the junta next year. "There will be a more politically active group next year and they will be in the news," Netiwit said.
Another key factor, Netiwit said, is growing displeasure over the junta-sponsored National Legislative Assembly's passage of a revised Computer Crime Act on Dec. 16. Critics say it will lead to greater censorship, self-censorship and breaching of citizen's private information by the state. "The law affects many people," Netiwit said, adding that the distributed and anonymous protest movement will likely spread anti-junta resistance to a new level.
While acknowledging the Computer Crime Act and its negative repercussions will be a big issue for 2017, Wasana the labor activist believes the economy, if it continues to decline, will ignite political resentment against the junta. She added that big business may even turn against the regime if it fails to deliver on the economic front. What's more, many workers could be laid off and this could lead to unrest, she predicted.
Former official Suranand thinks a bad economy would only force the government to switch up its economic team again. But he agrees that protests will expand as the government continues to be heavy handed in its authoritarian rule.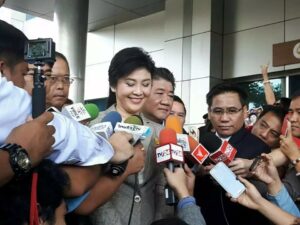 Former PM Yingluck Shinawatra speaks to reporters on Sept. 9 outside the Supreme Court. Photo: Matichon
Nipit of the Democrat Party pointed out another major political factor likely to figure prominently is the possible court sentencing of former premier Yingluck over her handling of a rice subsidy program during her tenure.
"There will be a lot of pressure as a result," Nipit said.