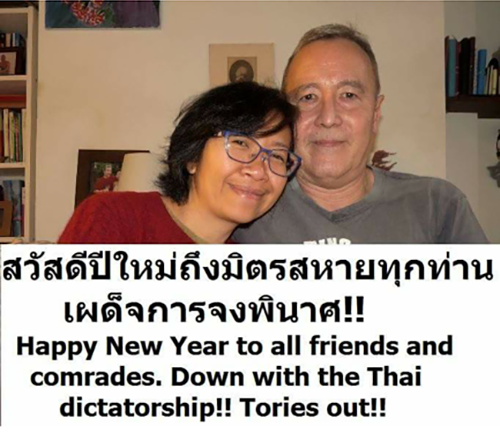 BANGKOK — In a sign 2017 will not be without political resistance, some activists and dissidents greeted the new year renewing their vows to oppose the military junta.
After a year that saw the opposition suppressed and disheartened after the junta prevailed in winning support for its proposed constitution, some took to Facebook to make political New Year resolutions.
"I am 60 now. Have visited half the world. Know about good wine. Got my pension," Chamnan Chanruang, a Chiang Mai-based former chairman of Amnesty International Thailand and democracy activist, wrote Sunday. "As for fame, I am somewhat known. … 'Down with Dictatorship. Long Live Democracy."
Read: No Elections For Thailand This Year, NLA Says
Arthit Suriyawongkul, a prominent internet freedom activist embroiled in public opposition to the junta-backed revision of the controversial Computer Crime Act, kept repeated the refrain.
"Down with Dictatorship. Long Live Democracy," the coordinator of Thai Netizen Network wrote.
A leading junta opponent with a number of cases brought against him by the authorities, Sombat Boonngam-anong, said he would remind the junta it had promised to hold general elections in 2017.
The military regime has said it will return power to the people under the constitution written under its supervision but has repeatedly moved that date back since taking power in 2014. As many expected, its most recent date for elections in 2017 was officially vacated on the year's first day.
Piyabutr Saenganokkul is a Thammasat University law professor and member of the Nitirat group of legal academics who called for legal reform.
Piyabutr, who has been in Paris the past 6 months conducting research, said that he must return home to contribute and said academics need to step up.
"Those in academic circles didn't do much to confront the coup-makers, particularly compared to students, activists and ordinary citizens… despite the fact that those in the academia enjoy greater privileges and safety…," he wrote. "I bow in respect to students, activists, citizens, journalists, lawyers and those who sacrificed themselves fighting dictatorship. And I must apologize in shame that this is all I could muster, but I will do more in 2017."
From England, exiled political scientist and lese majeste fugitive Giles Ji Ungpakorn including among his new year's tidings the following in English: "Down with the Thai dictatorship!! Tories out!!"
Others abroad, including anti-monarchist Junya Yimprasert in Finland and exiled journalist Jom Petchpradab in the United States said they would continue to do what they could.
"Although the road is long, I now firmly believe that victory, hope and success will definitely occur in the future," Jom said.