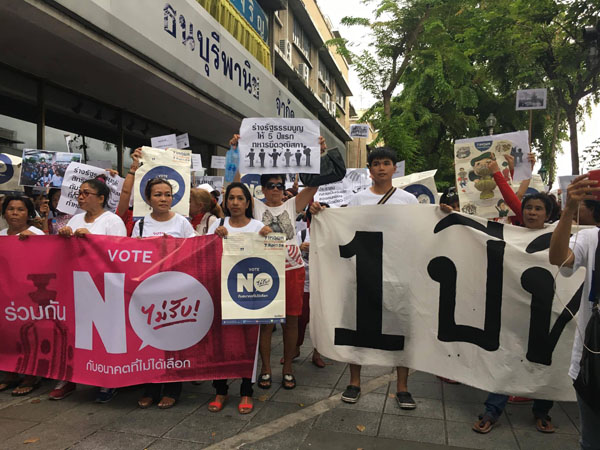 BANGKOK — The latest annual report on the state of human rights around the world by Human Rights Watch accuses Thailand's military regime of increased repression.
In its section on Thailand, the report cited wide-ranging issues from the past year, including 1,800 people awaiting military trials despite the junta's revocation of such practice last September, suppression of campaigning before a vote on the new constitution and censorship.
"Prime Minister Prayuth [Chan-ocha] has fed the UN and its member country empty promises on human rights," Human Rights Watch's Asia Director Brad Adams wrote Friday. "The junta needs to be pressed to end repression, respect fundamental freedoms, and return Thailand to democratic civilian rule."
Junta spokesman Col. Winthai Suvari was not available for comment Sunday, but officials have routinely complained organizations like Human Rights Watch do not understand the situation in Thailand.
The report noted an uptick in lese majeste cases since the death of King Bhumibol in October, with 68 known cases since the May 2014 coup.
A section of the report noted the lead up to the August 2016 charter referendum saw curtailed rights of expression and assembly.
"Thai authorities arrested at least 120 politicians, activists, journalists, and supporters of political movements  who had criticized the proposed constitution, publicly announced they would vote "no," urged voters to reject the draft constitution or sought to monitor voting."
It added that the government did not provide equal access to state media for opponents of the proposed charter, which it noted ensures the junta cannot be held accountable for any abuses.
"Instead of paving the way for a return to democratic civilian rule as promised in its so-called road map, the junta has created and imposed a political structure that appears designed to prolong the military's grip on power."
The New York-based organization also said at least 45 civilians were detained at a special prison inside the 11th Army Circle base in Bangkok without effective safeguards against abuse.
As for free expression, the report cited the suspension of news analysts at Voice TV and forcing Redshirt-aligned Peace TV temporarily off the air as evidence of continued censorship.
In other sections, the reported addressed security forces not being held responsible for abuses in the Deep South, abuse of migrant workers from neighboring countries, and the lack of progress in cases of disappeared activists such as Por Cha Lee "Billy" Rakchongcharoen, Muslim lawyer Somchai Neelapaijit and land rights defender Den Khamlae.