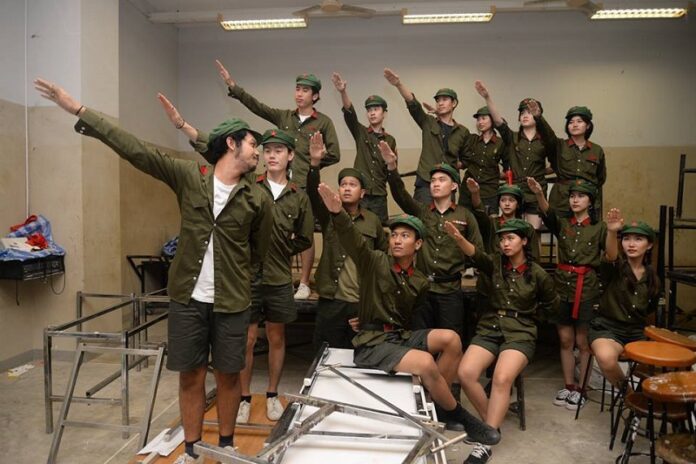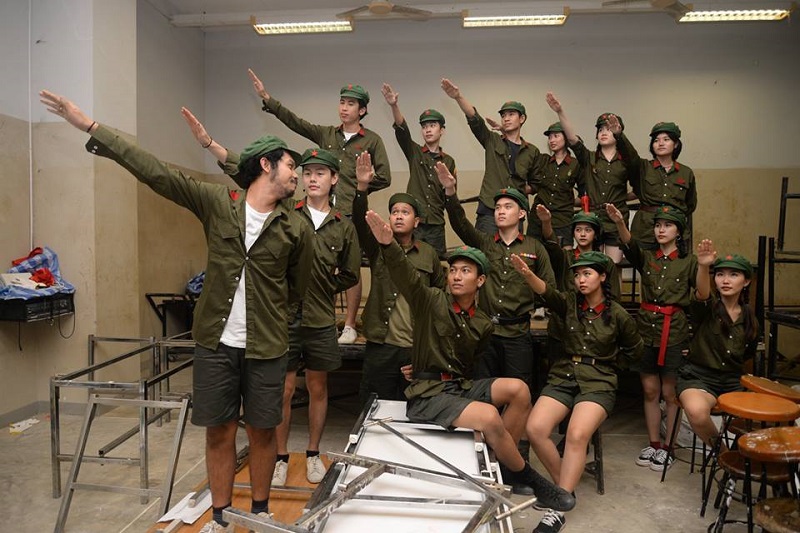 NAKHON PATHOM — Sitting in front of an audience gathered to reflect on the atrocity visited last century upon millions of people, mostly Jews, during World War II at a university in Nakhon Pathom was Sopanut Somrattanakul.
The fourth-year arts student was preparing for an act of atonement that, when finally offered to the audience, would ring hollow for its defensiveness in lieu of actual apology.
Just four months earlier, he shot to infamy for running the show when his peers appeared on Facebook in photos in which they performed Nazi salutes in Communist Red Guards uniforms, including one Hitler-alike student complete with fake mustache and self-satisfied look.
Read: Thai University Students Cosplay as Red Guards and Nazis, Again (Photos)
On Thursday, west of Bangkok at Silpakorn University's Sanam Chandra Palace Campus, a day before Holocaust Memorial Day, Sopanut recounted what happened that day as a big misunderstanding.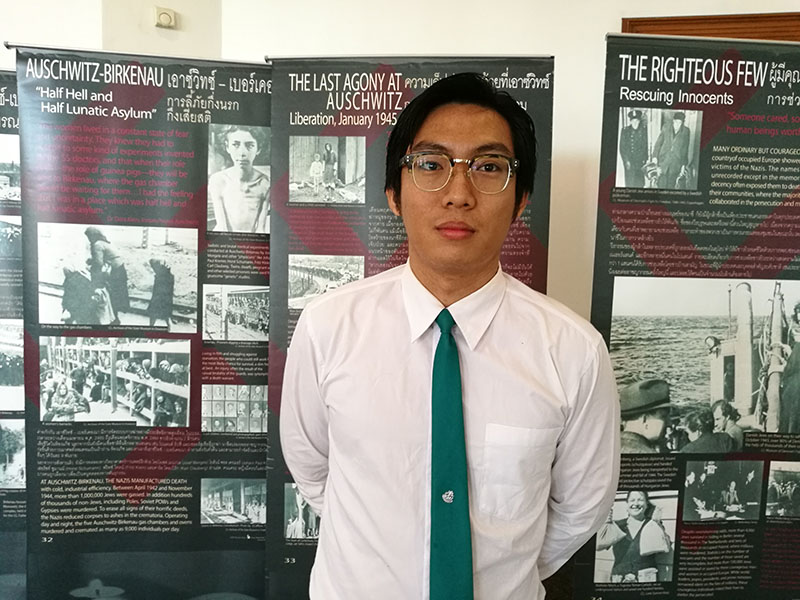 "We do not harbor such thinking. But the whole thing wasn't thought out well," he said minutes before going on stage to speak and show contrition for the September incident. "It was the last day [of welcoming ritual] and they were just letting steam off."
Sopanut was in charge of welcoming the freshmen, a rite of passage involving heavy hazing known as rub nong, between August to September. For the last day, he said they decided to make fun of dictatorship in general with one dressing like Hitler and everyone doing Nazi salutes. He said it was not the most obvious choice for them.
Sopanut, who didn't participate in costume himself, said fanatical Fascist and Communist fashion was chosen because in Thailand, they're universally associated with dictatorship. The 23-year-old senior student said Thais of his generation do not make a direct connection between dressing up like Hitler or doing Nazi salutes to that of supporting the holocaust or Nazi ideology.
Soon after the incident became infamous, Sopanut said the Israeli Embassy contacted the university. The message relayed was that they understood that there was no intention to cause harm. The university's president, Chaicharn Thavaravej, publicly apologized however, for what he described as "irresponsible actions."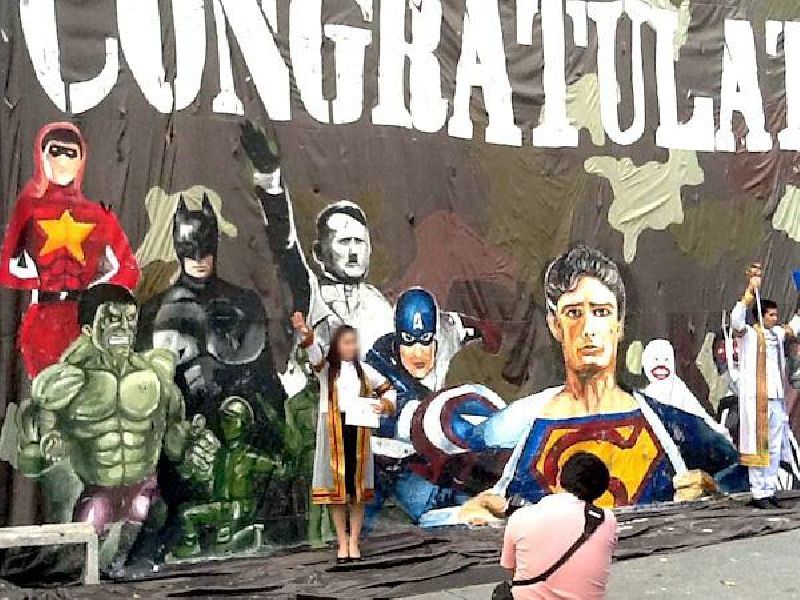 That was back in September. Now, four months later, the university held an art exhibition and program to commemorate the holocaust in collaboration with the Embassy of Israel on Thursday.
After giving a speech and touring the art exhibition led by the university's president and with Sopanut as guides, Israeli Ambassador Simon Roded said it was "amazing" such a "minor incident" could lead to all this.
"This is amazing!" said Roded, himself the grandchild of holocaust survivors.
Roded said he detected no expression or manifestations of ideological support among these students.
"But they don't make the connection," the envoy said, adding that there's a lack of deeper understanding that people in Europe and the West take for granted.
It wasn't the first time such a sequence played out.
Chulalongkorn University had to apologize in 2013 after its graduating seniors posed for photos making Nazi salutes in front of a mural of "superheroes" which included Adolf Hitler. The university would go on to also host a Holocaust Memorial Day event, also attended by Israeli Ambassador Simon Roded, where Thailand's need to understand history to better engage the world was discussed.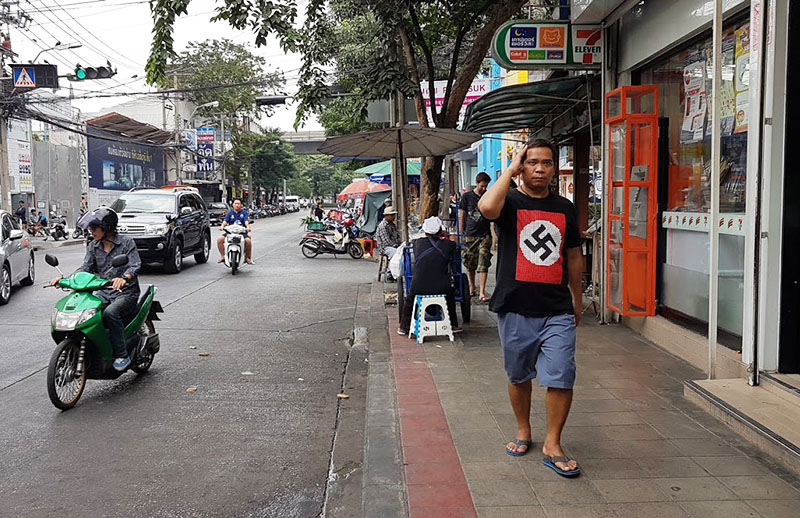 International Holocaust Memorial Day marks the day the largest Nazi concentration camp, Auschwitz-Birkenau, was liberated by the Red Army in 1945.
Foreign residents are often aghast to see the type of Nazi imagery openly displayed in Thailand that would be taboo back home. Foreign parents were aghast in Chiang Mai in 2011 when students at a school there dressed in elaborate SS costumes for an entire Nazi-themed school parade. But the same awareness is not widespread in Thailand, where Hitler appears on T-shirts in the spirit of Darth Vader, Che Guevara or Mao Zedong.
Expressions of antisemitism are rare.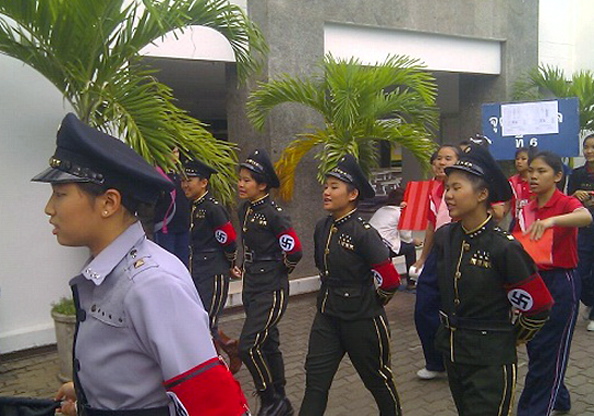 When it came time to take the stage, rather than overtly apologize, Sopanut fell back on this context defensively. He said knowing what Hitler did and what the holocaust was about was different from cultural sensitivity. That connection is not automatically made, even if you know what Hitler did, the bespectacled student insisted, adding that it will take more than just knowledge to prevent some repeating the same in the future.
"If you ask me whether I understand or not? I do. It's just that Thais are far removed [from the issue]," said Sopanut, before giving a short and opaque speech that offered no apology.
"To say we have become more sensitive is not possible because we are not them," he said. "But we have more empathy."
Related stories:
Silpakorn Apologizes for 'Shameless and Irresponsible' Sieg-Heiling Students
Israel Embassy Condemns Thai Aristocrat's Praise of Hitler
Director Defends 'Hitler Scene' in Thai Junta Film
University's 'Hitler Mural' Leads To Flurry Of Apologies – And Gag Order