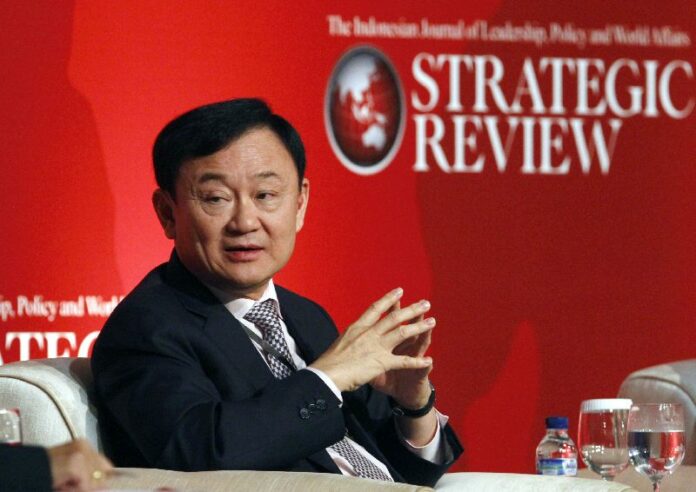 BANGKOK — The junta will not use its absolute power to collect 16 billion baht in taxes from Thaksin Shinawatra stemming from a 2006 stock deal, an official announced Monday.
Authorities from relevant agencies met Monday to sort out what could be done to get the money from Thaksin within 18 days before a statute of limitations expires.
The case stems from taxes Thaksin owed 10 years ago for trading shares of his telecommunications company. The order for him to pay the money came after he was deposed by the military and expires March 31.
Despite pressure from segments of society and Thaksin's political rivals, Deputy Prime Minister Wissanu Krea-ngam insisted the junta would not use Article 44 of its interim charter to extend the case. What course of action was agreed to Monday won't be announced until it is approved.
The Revenue Department has never issued a formal summons to Thaksin over the matter in the past 10 years. The Finance Minister said today he has never received a report on the issue from the Revenue Department. The department's director-general could not be reached for comment Monday.
The controversial transaction is traced back to a series of transactions in 1999 when Thaksin sold shares of his telecommunications business, Shin Corp., to an offshore company also controlled by his family.
In 2006, Thaksin's children bought back shares for less than they were worth then resold them for a profit to a Singaporean holding company.
After Thaksin was ousted by the military later that year, a government review concluded in 2008 that Panthongtae Shinawatra and Pinthongta Shinawatra should pay capital gains taxes on the shares they had acquired for only 1 baht when their market value was just shy of 50 baht.
A court in 2010 ruled the two siblings were acting as proxies for Thaksin, and that he was liable as the true owner of the shares.