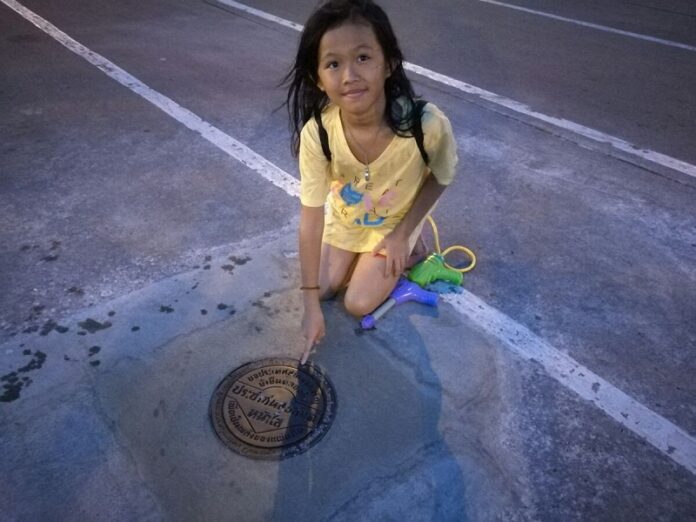 BANGKOK — Social media users on Friday reacted differently as they learned that one of the kingdom's few historical relics of the 1932 Revolution – which marked the end of the country's absolute monarchy – had been mysteriously removed with no one claiming responsibility.
The disappearance of the 1932 Revolution plaque, 30 centimeters across and made of brass embedded on a concrete street pavement, came to public attention Friday afternoon. It had been replaced by a different plaque of similar diameter. This time, part of it contained a proverb of the Chakri Dynasty's motto: "Loyalty and love for the Triple Gem, one's clan and having an honest heart for one's king is good. These are the tools to make one's state prosper!"
Read: 1932 Democratic Revolution Plaque Removed
Despite both the Bangkok Metropolitan Administration and the Fine Arts Department insisting yesterday that they were not involved or had any knowledge about it, a Thammasat University historian demanded the Fine Arts Department investigate and find the stolen plaque.
Historian Pipat Krajaechan said on Friday that the plaque is a national historical object over 50 years old, thus adding that it was the responsibility of the Fine Arts Department to pursue the stolen item. He said the Fine Arts Department must provide the public with an explanation as to what happened to the bronze plaque, which is very close to the Equestrian Monument of King Rama V and marked the exact spot where soldiers gathered to stage the revolt which ended absolute monarchy. Pipat stressed that the plaque is important to the collective historical memory of all Thais.
Social media reactions on Friday were mixed, with some expressing outrage while others said it was the right move.
On Facebook, Chulalongkorn University Professor of Philosophy Soraj Hongladarom, posted saying that the act was akin to "the destruction of a national treasure."
Student activist Parit Chiwarak posted saying the act was like the destruction of Thai history.
Pro-democracy activist and member of Resistant Citizen Pansak Sripthep resorted to making a nonchalant joke:
"Could it be possible that those responsible for the plaque removal were the Taliban?," the post read.
Others such as Facebook user Suntariya Muanpawong, an environmentalist, noted today the challenges that lie ahead.
"A nation can move forward or backward. The challenge is now upon our generation," Suntariya said.
Not all were upset. On Twitter, a number of Thais said the move was justified since The Promoters stole power from the monarchy by staging a revolt to begin with.
Twitter user @songseang0196 tweeted yesterday saying this was a plaque put up by those wanting to destroy the monarchic institution.
Twitter user @FirefoxChorme tweeted: "What's historical about it? It was the promoters who seized power then embedded the plaque. And someone who didn't like it removed it…"
Another Twitter user said there's nothing to be remorseful about.
"It's just a piece of brass that would better be sold as scrap metal to make it more useful," tweeted @NapaphatJampa1, a lawyer, Saturday morning. "The past is the past."
As reactions continued, some began speculating as to who might have been behind the act of vandalism and its motives.
Some said it was meant as an attempt to remove history from Thais' collective memory, others said it could be driven by superstitious belief among some ultra-royalists. No matter who did it, the work appeared professional, a Facebook user noted.
"To steal the plaque would have required a lot of time, a jackhammer (or a sledgehammer, which would have taken even more time), bags of cement and several people to do the work," comment Claudia Intama, an LGBT educator, on Facebook Saturday. "Even if it was at night, that is a busy area and it seems like surely someone would have noticed something. What about CCTV cameras in the area? Have they been checked? I don't want to be a conspiracy theorist, but I wonder if this theft was sanctioned from someone higher up, or if nothing else, that they turned a blind eye. It seems suspicious."
Related stories:
Tiny, Faded Marker Looms Large Over Thailand's Democracy Debate
Ultra-Royalists Threaten To Destroy 1932 Revolution Plaque
Correction: This article previously stated that the plaque was replaced Friday afternoon. The plaque had been replaced as early as Wednesday but only caught public attention Friday.