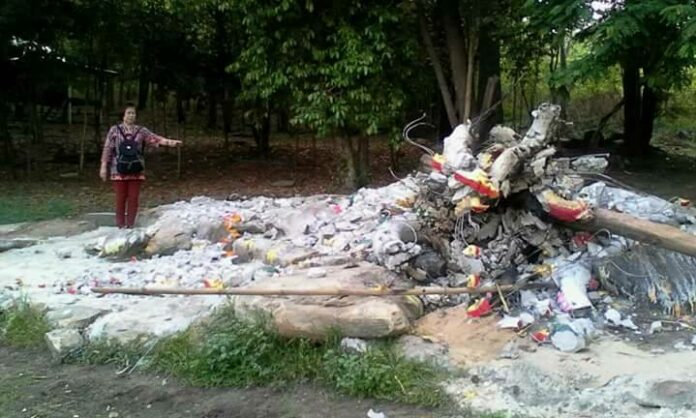 KHON KAEN — A shrine dedicated to the mythical Naga creature was torched and smashed to pieces earlier this week, according to a religious group that manages it.
Photos posted online by Wat Tham Phupa Daeng in Khon Kaen province showed remnants of what used to be statues of the water serpent god Naga. The temple condemned the incident as blasphemous vandalism, while police suspect it might be related to a past conflict between the Naga faithful and local communities.
"We condemn those … who destroyed our nine Nagas at Wat Tham Phupa Daeng," the temple wrote in a Tuesday post. "They did not only smash the statues, they also set them on fire."
Naga is a mythical creature in Buddhist cosmology associated with water and good fortune. The Naga shrine complex at Wat Tham Phupa Daeng opened in December to much fanfare, drawing worshipers from many parts of the country to its supposedly miraculous blessing.
Pachorndej Chanthornwongsa, head of Khok Phochai Police Station, said no one from Wat Tham Phupa Daeng had filed any complaint about the alleged vandalism so far.
The police colonel said some local residents have enmity toward the temple and its belief in the Naga, which had previously led to disputes. For example, protests from the community forced the temple to cancel its plan to hold a large gathering and ritual to ask for the Naga's blessing several months ago, Pachorndej said.