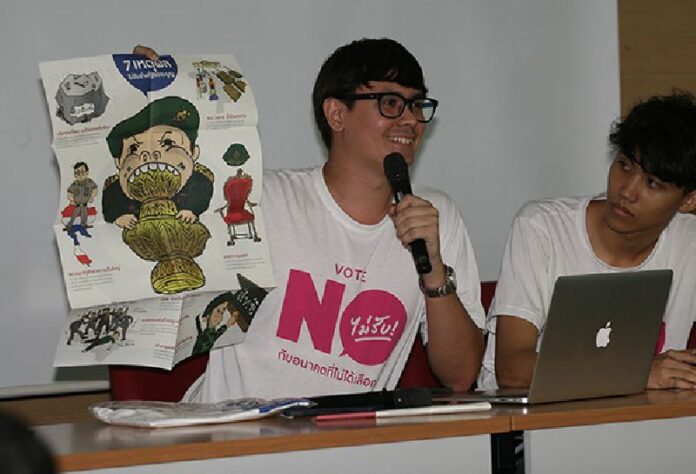 BANGKOK — A proposed bill to regulate political parties from the junta-appointed Constitution Drafting Committee has been greeted with skepticism if not outright distrust from both sides of the political divide.
Politicians said the bill, as written, is aimed at further diminishing the role of political parties by setting minimum membership levels while also demanding members pay annual dues.
"A hundred baht may not be a lot for the middle class, but for the lower class, it's not insignificant," said Weng Tojirakarn, a former Pheu Thai Party politico and leader in the Redshirt movement, which is largely comprised of rural and urban poor. "This is the destruction of a political party."
A member of the junta-appointed body that wrote the military-backed constitution meanwhile said the controversial details, including 100 baht annual membership fees and time-bound minimum membership levels were well-intended and considered.
If the bill becomes law, new political parties must have at least 500 members. Within a year, they must count 5,000 members and rise to 10,000 after four years to maintain legal status. It would also jail anyone found guilty of paying for a political position for 10 to 20 years. The bill also takes direct aim at the legacy for fugitive former Prime Minister Thaksin Shinawatra with a provision that an outsider found guilty of unduly dominating a political party could be imprisoned five to 10 years.
Weng said something doesn't smell right about the bill. He said the 100 baht membership fee is an attempt to reduce or discourage party membership. Pheu Thai currently has 130,296 registered party members, the former MP said, and they pay nothing.
A deputy leader of the rival Democrat Party predicted it would reduce its membership by half.
Nipit Intarasombat said his party tried to introduce membership fees some years back, only to abandon the effort.
"Members said they are already helping candidates to campaign, so why should they pay also?" he said.
Currently there are 2.8 million Democrat Party members. Nipit said the abandoned plan to collect 20 baht annual membership fees ended after they collected only a few hundred thousand baht. He said the charter drafters are out of touch with reality.
He also said it neglected to address those political parties formed not to compete in elections, but advocate for public policy.
Concerns for the Pheu Thai
The fears of the Pheu Thai extend into the realms of conspiracy theory. He said the party may face trumped charges in the future of alleged payments for people to register as members, thus being dissolved. "It's hard for me to perceive it otherwise," Weng confessed.
Another concern expressed by Weng was how anyone would just construe what constitutes an act of an outsider unduly "dominating" a political party. Weng said Pheu Thai's campaign motto used to be "Thaksin [Shinawatra] thinks, Yingluck [Shinawatra] Acts." Will such thing now be illegal? He said.
Weng added that under the new proposed regulations, new political parties will also be hard to form. "It's like stunting political parties," said Weng, who added that he understood that a critical number of party members is needed for a political party to be a real party. However, he still found the measure too stringent.
Well-Intended but Wrong
Rangsiman Rome, a key member of New Democracy Movement (NDM) said he believes the charter drafters were well-intended but their prescriptions were wrong and it will lead to opposite results.
Requiring people pay a 100 baht annual fee, a move intended by charter drafters to enhance the relationship between the party and its members as well a sense of ownership, is an "ironic" move that will have the opposite results, predicted Rangsiman. Rangsiman said that to many poor Thai families, 100 baht can buy three meals. "They may conclude that three meals may be more important than party membership," said Rangsiman.
"Using the argument that [charging membership fees will lead to greater sense of ownership] is truly misleading," said Rangsiman, adding that a sense of party ownership comes from political conviction.
As for the minimum membership number requirement, Rangsiman said it will lead to lesser number of political parties. "If one day I want to form a political party, it would be difficult," said Rangsiman, who added that he recognized the charter drafters' good intentions nevertheless.
Have Nothing to Do With This Constitution
Prasang Mongkonsiri, advisor to Democratic Force Party boycotted last August because he and his peers did not want to have anything to do with military junta and its extended process. He said he will thus take no position on the matter.
Prasang added however that he personally thinks charging membership fees under any legitimate Political Party Act is wrong, as politics is about volunteerism. As for the minimum membership number, Prasang also said he's against any such criteria under a legitimate law in the future. He said his party has 100 members and that political parties are not just about elections but political campaining as well.
Criticism From Those Affected, Unwelcome
"We don't accept criticisms from [politicians] who would be affected by these [proposed] changes," said charter draft Amorn Wanichwiwatana on the phone Monday afternoon. "We want to see change for good.
Amorn said new proposed regulations means fly by night political party cannot exist.
"In the past we have substandard political parties," said Amorn, who's also a political science lecturer at Chulalongkorn University.
As for 100 baht annual membership fee, Amorn said it's not about putting up any barrier to entry.
"The 100 baht [annual membership fee] is not a barrier. Whenever rural people can part with 100 baht, they can apply [for party membership]," said Amorn, adding that the number is also not written in stone at this stage and could be reduced to 50 baht.
The junta-appointed National Legislative Assembly begins vetting the proposed bill on Monday.