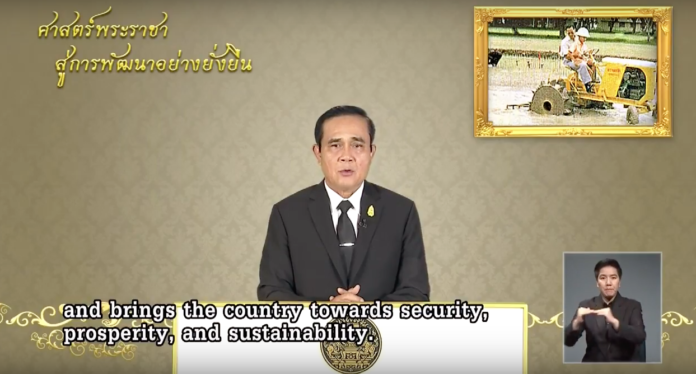 BANGKOK — A government spokesman Sunday sought to defend four leading questions posed on national television by the prime minister that cast doubt on his commitment to restoring civilian rule.
Sansern Kaewkamnerd said Prayuth Chan-ocha was trying to gain direct insight from the public when he asked for their opinions on four questions critics said seemed written to offer a pretext for him to remain in power.
Gen. Prayuth's questions conveyed the same message he aired one day after a Bangkok hospital was bombed: Elections cannot take place if the country is still unstable.
Speaking nationwide on his weekly Friday address broadcast nationwide, the junta chief first asked, "Do you think the next election will lead to a government that practices good governance?"
He followed it with a second question, "If not, what should we do?"
His third question asked, "Elections are important for a democracy. But they are not the sole determinant of the country's future and other matters, such as whether a country has a strategy or undergoes reforms, is this true or false?"
The last question asked, "Do you think that politicians who've shown inappropriate behavior should have the opportunity to seek office again? If they gain office again and new problems arise, who should fix them and with what means?"
Prayuth told people to submit their answer through the government's Dhamrongdhama Center national complaint system.
A former minister in the previous Pheu Thai government, Chaturon Chaisang, said the questions show Prayuth does not know where he is taking the country and he does not believe in the referendum-approved constitution or its drafters' claims it will weed out unqualified politicians.
Watthana Phetthong, a former Democrat Party MP, said the leading questions were an attempt to create conditions under which he could cancel elections and remain in power.
"Why does the prime minister need to ask people when the new constitution already put in place so many detailed regulations," he said. "Instead, the prime minister should answer people directly whether there will be an election under the new constitution."
Last August, the public backed a junta-sponsored constitution which hamstrung democratic institutions and enshrined military power over civilian rule.
Speaking today, government spokesman Sansern said the prime minister only aimed to hear directly from the people to improve measures the government is undertaking.
He said Prayuth's approach is a better way to learn what people really want as it has only heard opinions from politicians and academics. Sansern also said Prayuth's method was better than conducting a poll.
He said the prime minister wants people to have their own dignity to express their opinion without political groups distorting it.
Governors and district chiefs nationwide were ordered to gather comments and submit them to the prime minister in three months.
Despite the government's record of suppressing dissent, Sansern assured those who disagree with it could express their opinions safely.