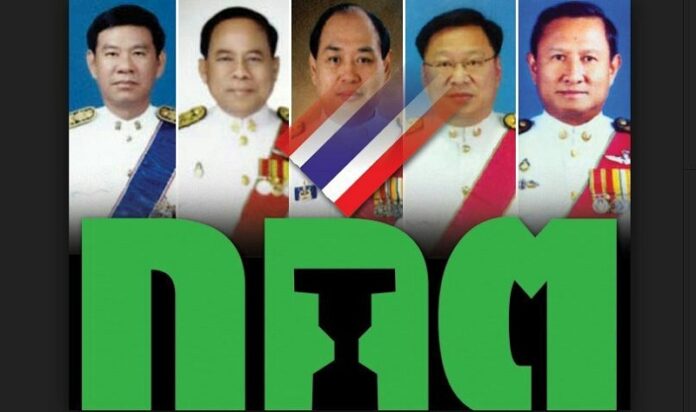 BANGKOK — The interim national assembly on Friday will vote on whether to disband the Election Commission and replace it with an expanded number of commissioners.
The junta-appointed National Legislative Assembly, or NLA, will vote Friday afternoon on ousting its five commissioners and expanding the body from five to seven seats. Friday will be the second and third reading of the bill.
Under the bill, the new commissioners would be selected by a committee comprised of representatives from various agencies including the courts and other independent bodies. The chief author of the 2017 constitution said fresh faces on the commission, which oversees voting and campaigning, would provide a much-needed political reset.
If approved, the five commissioners appointed under the 2007 constitution would be forced out of  office when the bill goes into effect.
"It's up to the NLA now. I hope they will make a good decision," Commissioner Somchai Srisuthiyakorn said Thursday afternoon. Somchai, who has stated his opposition to the bill, has a three-year term ahead of him – if he isn't axed tomorrow.
If he and the four others are removed, he expects they will remain on as caretaker commissioners until replacements are named some time in November.
Experts are divided on support for the move to prematurely remove all existing Election Commissioners. Supporters include Ubon Ratchathani University's Dean of Political Science Faculty Titipol Phakdeewanich, who says the existing commissioners are not democratically minded.
Titipol said that no matter how the vote goes, it's likely to be interpreted along political lines. Removing the existing five commissioners could be perceived as an attempt by the junta force them out days after they resolved to continue a probe of nine cabinet ministers for possible conflicts of interests.
The nine include Deputy Prime Minister Wissanu Krea-ngam and Foreign Minister Don Pramudwinai.
Somchai on Wednesday rejected rumors the investigation was an act of revenge.
Should the present commission survive, Titipol said it could signal endorsement by the junta for its current members to handle the next general election.
Constitution Drafting Committee chairman Meechai Ruchuphan on Wednesday defended the proposal saying the move will smoothen the transition into a new seven-member commission in line with the 2017 constitution. Two charter drafters are members of the extraordinary committee in charge of drafting the organic bill.
Sakool Zuesongtham, a minority voice within the extraordinary committee said it's wrong to punish the current election commissioners because they have done nothing wrong. Sakool said he's against the tabula rasa proposal.
"Amending any law should not leads to punishment against any innocent party. It's a matter of principle," said Sakool, adding that things have become politicized.