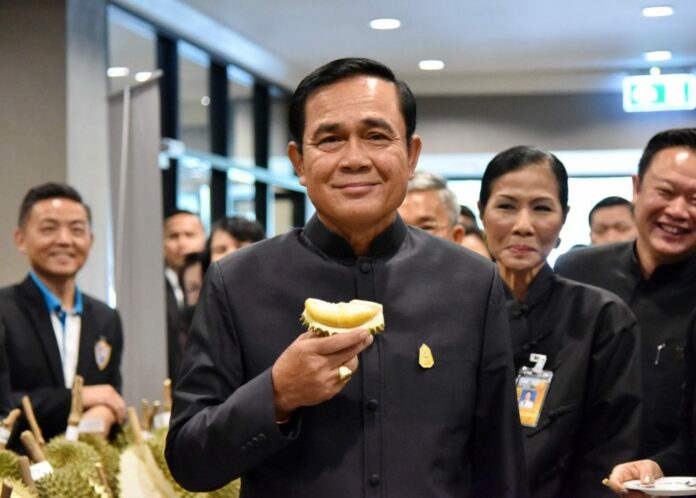 BANGKOK — A university poll published Sunday said over half of respondents agreed with the idea of junta leader Gen. Prayuth Chan-ocha remaining prime minister after the next elections.
The poll, conducted Wednesday through Friday by the National Institute of Development Administration on 1,250 people from across the country, showed 53.32 percent of respondents agreed with the idea of Prayuth serving as prime minister again.
In reference to the next elections, respondents were asked if they would "agree in the formation of a new political party to support the current administration."
Those in favor agreed to the return of the current cabinet if a new political party was formed to represent them and if it was democratically elected. The idea of setting-up a pro-junta political party has been the subject of speculation for a long time after the 2014 coup and 53.52 percent of respondents said they supported the idea.
The poll said supporters cited a desire to see a new solution to the kingdom's woes, reduce conflicts and political chaos. Thirty-one percent of respondents opposed the idea, saying it would only extend the lifespan of the current regime, which they said has failed to solve several problems – particularly the struggling economy. They added that citizens' rights have also been curbed under the military rule. Slightly over 15 percent said they were undecided.
Another question by the same pollster asked "how possible do you think it is that the two big parties, the Democrat Party and the Pheu Thai party, would cooperate to form a coalition government after the next election?"
The majority of the respondents said they did not think the two biggest parties could unite to form a joint government, with 53.84 percent of respondents saying no because they believed the two parties have differing political views and policies. However, twenty-nine percent said it's conceivable, while only 6.32 percent said it's highly likely. Slightly over 10 percent said they were unsure.
When asked if they wanted to see the two parties unite in a bid to form a government, 63.60 percent said yes, adding that they wanted to see unity and reconciliation.
The poll was conducted by telephone using stratified random sampling through the institute's database of 200,000 phone numbers. Respondents were all Thai nationals aged 18 or above and 56 percent were men, while 44 percent were women. Interviews were conducted in Thai.