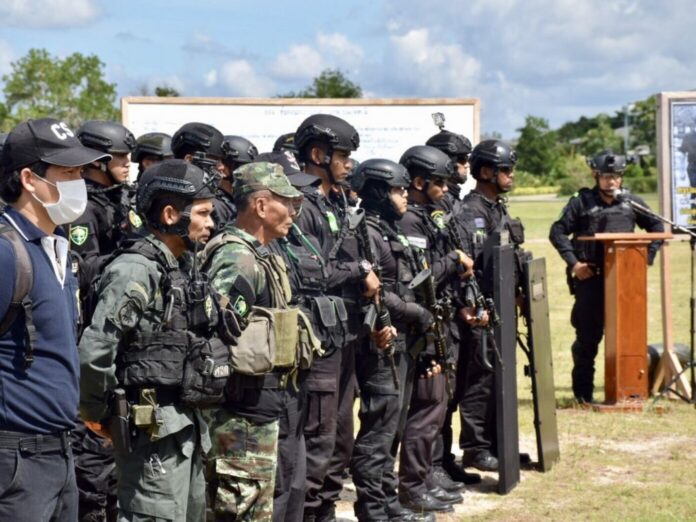 BANGKOK — Junta leader Prayuth Chan-ocha's use of absolute power to expand the mandate of a military unit that answers only to him has alarmed human rights watchers.
Critics expressed concern Monday about a more powerful and independent ISOC, as the Internal Security Operations Command is known, after Gen. Prayuth unilaterally granted its commanders wider authority to direct other state agencies at the regional and provincial level.
On Wednesday, Prayuth amended Article 11/1 of the Internal Security Act, which for the first time spelled out which state organs must cooperate with existing ISOC committees headed by regional army chiefs. State prosecutors were a new and unprecedented addition to that list, which included the police, Interior Ministry and other regional and local bodies that ISOC has been able to wield authority over.
Chulalongkorn University political scientist Puangthong R. Pawakapan warned the order ensures the military's future use of ISOC as leverage to control state agencies after civilian rule is restored.
"Even after the election, it will open the door for the military to have power over other state organs," said Puangthong, who has studied ISOC's growing role of society.
Puangthong zoomed in on the junta leader's order No. 51/2017, which expanded the list of government bodies that must cooperate with ISOC at the regional and provincial level, especially the inclusion of civilian prosecutors.
This, she argues, poses a threat to the justice system by enabling ISOC to direct the activities of local attorneys general.
"The real goal was to make [ISOC's] power more clear-cut, including with prosecutors," she said.
Prayuth's order, which circumvented his interim legislature, said it was intended to more effectively protect national security interests. ISOC exists outside the military chain of command and is part of the Prime Minister's Office.
Puangthong said ISOC has worked with the Education Ministry at the local level to train students about patriotism and love for the monarchy. She added that this is an example of how ISOC exerts power over other state bodies.
Founded in 1965 during the Cold War, ISOC was initially aimed at tackling communism. It has since widened its scope to include drug trafficking, separatists in the Deep South and suppressing anti-government movements. It was accused of the supporting right-wing paramilitary groups that killed university students under the guise of targeting communist sympathizers in 1976 at Thammasat University.
Last year, its budget exceeded 10 billion baht.
National human rights commissioner Angkhana Neelapaijit said Monday that ISOC was already susceptible to abuses of power in handling what it decides constitute threats to national security. Giving it more power could lead to its infringing on civil and political rights.
"Giving security and military officers more power leads to concerns about the exercise of discretionary power. Sometimes officers don't report to the central command," Angkhana said, adding that political rights cannot be separated from civilian rights.
Both regional and provincial ISOC committees will have the power to come up with plans to deal with all types of threats to national security.
Under the junta leader's order, the amended act slightly tweaks the definition of what constitutes a threat to national security as anything "…that may constitute a threat from a group or an individual that creates disturbances or destroys or causes damage to the life or property of people or the state…"
The act also allows ISOC to take action against threats real and perceived.
As Thailand looks to pivot away from rule by the junta which in 2014 overthrew the civilian government, concerns have grown over measures it has put in place to extend its rule. Critics worry it will systematize existing mechanisms that have been used to silence protests, dissent and expression.
Elections have been set for November 2018, while bans on political activity and protest have yet to be relaxed.