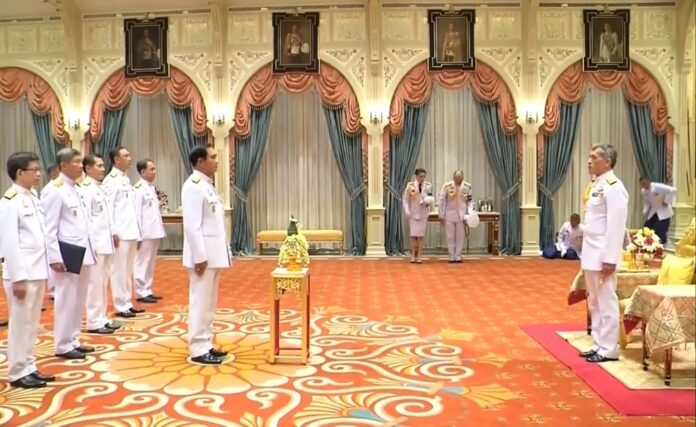 BANGKOK — The new cabinet convened by junta chairman Prayuth Chan-ocha – the fifth lineup in his three-plus years of rule – was officially unveiled to the public today, when they gathered for a traditional group photo in front of Government House.
Prior to Monday's ceremony, the 18 new members were granted an audience with His Majesty the King to swear their oaths, as the law requires. It was also a first for King Vajiralongkorn, who ascended the throne in December 2016 following his father's death two months earlier.
At the meeting, which took place Thursday at Dusit Palace, the monarch gave his most high-profile public address thus far in his reign, which he used to urge the new cabinet to work for the nation's three highest institutions: nation, religion and monarchy.
Below is an unofficial translation of the king's speech.
"I'd like to use this opportunity to bless you with strength of mind and body, and the wisdom to perform the duties for which you have sworn your oath. In short, they are: national security, happiness and safety of the people, and reputation and culture of our country, which has a long history and culture, along with the three sacred institutions that have always protected the nation.
In your work, naturally you will encounter problems, difficulties and mistakes. This is what has always been throughout history. But if you use your wisdom, alongside spirits and good dedication, you will know how to overcome any difficulty, mistakes and obstacles that may happen. Because happiness of the public and security of the nation and the people are important to Thailand.
There are many ways to work, it's important to have dedication and resolve to serve the people, the country and the highest institutions of the nation. The people want to be happy. The people want to have confidence and security, and they are willing to walk in the right direction. Therefore, the cabinet has a duty to steer, safeguard and protect our nation.
I'd like you to spare thoughts for His Majesty the Late King Bhumibol. He has given much instruction. He shown us much practice. If you can study his works and his wishes, it will be a good way for the country to carry on His Majesty's wishes. I am certain the people also want to see that. I'd like to bid you all good fortune."