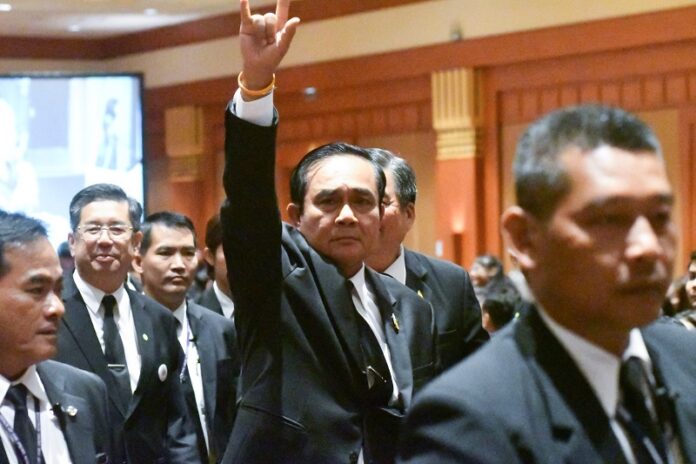 BANGKOK — Critics on social media weighed in Thursday on a declaration by junta leader Gen. Prayuth Chan-ocha claiming he was now a politician and no longer a soldier.
Interpretations to Prayuth's comment on Wednesday fuelled increasing speculation on his alleged ambition to become an elected prime minister after general elections slated for November. Some believed it was an attempt to deflect criticism against the military junta while others praised him for being honest and willing to admit his status.
"I think it's a first clear signal that Prayuth is willing to pick up the baton [post elections]," said pro-democracy activist Piyarat Chonthep, adding that this falls in line with attempts by some junta-supporters to set up a pro-military government. "It's became clear when [Prayuth] said himself [that he's now a politician]. In the end, Thai soldiers have always been politicians. They are politicians who manage the state from a state within a state."
Another, pro-democracy activist Baramee Chaiyarat, concurred. He posted on Facebook Thursday that the declaration "shows [Prayuth's] desire to continue in power."
On the phone Thursday, Rangsiman Rome, a key member of Democracy Restoration Group made a similar interpretation.
"It reinforced our hypothesis that the junta wants to stay in power [after elections]," he said. Adding however that those who expect the junta to merely step in after the coup and clear up "bad" politicians would now likely be disappointed by Prayuth's announcement that he's a politician himself.
Not all reactions were negative. On Thursday, former foreign minister and senior Pheu Thai Party member Noppadon Pattama praised Prayuth, saying it was good that he accepted the reality that he's now a politician. Noppadon said the Pheu Thai had always insisted that Prayuth is a politician and that it was good that he no longer resisted this reality.
A reality contested however, by pro-democracy activist Nuttaa Mahattana, who saw it as Prayuth's attempt to misrepresent himself given that he still holds absolute power under Article 44 of the constitution.
"Mr. Prayuth should not misunderstand. Politicians are chosen and can be scrutinized by the people. If you use guns to seize power and cannot be scrutinized then it's call #cheaters," she wrote on Facebook Thursday.
Political analyst Chamnan Chanruang saw the move as more of a deflection tactic. Chamnan said Prayuth changed his tune, after repeatedly saying since the 2014 coup that he's not a politician to deflect the growing pressure and criticism on the military.
The new fault line, said Chamnan Chanruang, is now said to be either pro or anti-military.
"But in principle, they are politicians," he said, adding that some factions within the military may no longer see eye to eye with the military junta, formally known as the National Council for Peace and Order.
This coincided with what Thammasat University law lecturer Parinya Thewanaruemitkul said earlier this week, in that the new political fault line was no longer red versus yellow shirts, or Pheu Thai versus Democrat Party, but whether one is against or in favor of the military junta.