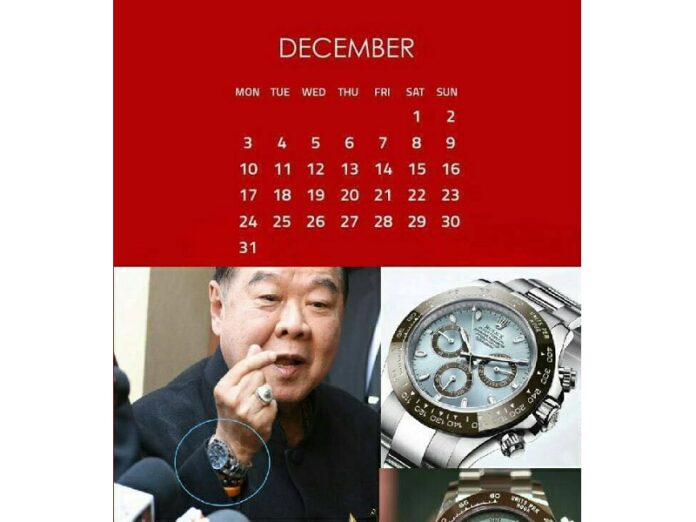 BANGKOK — Gen. Prayuth Chan-ocha may be the junta leader, but as of Thursday, his deputy Gen. Prawit Wongsuwan may have surpassed his popularity – or infamy – in terms of appearing on calendars.
Prawit is being featured in at least three different 2018 calendars – three more than Prayuth – wearing a flurry of controversial and undeclared luxury watches which caused public outrage late last year when amateur watchdog CSI LA brought the matter to light.
Needless to say the calendars weren't meant to flatter him.
Anti-junta activist Piyarat Chongthep said this was the best way to remember the 15 mysterious luxury watches on the deputy prime minister's wrist. Exploiting the trend, he said he decided to place an order at a local printing house for 500 copies of 2018 calendars featuring Prawit and the various timepieces ranging from a Richard Mille and Patek Philippe to Audemars Piguet and Rolex.
Asked if he will sell them and if so at what price, Piyarat said Thursday on the phone that he would give them away as gifts to those who campaigned to oust the Yingluck Shinawatra administration and government officials.
For government officials, Piyarat said he wanted to give an example of how being government officials, one can be rich at an old age.
The calendar should be readied by next week, he said, adding that he's also preparing another 500 copies with a different design.
Those unwilling to wait or those who do not fall into Piyarat's gift group, can download a similar calendar from anonymous Facebook page CSI LA.
"It is currently popular. Those who haven't got it can download and share it with friends," the Facebook page wrote Wednesday. January 2018 starts low with a gold-and-steel Rolex Datejust on Gen. Prawit's wrist, retailing for 413,000 baht.
By June, the online calendar features the infamous Richard Mille that triggered the scandal and retails at more than 3 million baht in Thailand.
While Prawit, as deputy premier, tendered a letter clarifying the provenance of the watches to the National Anti-Corruption Commission at the end of last year, the curiosity and scandal has not subsided as Prawit refuses to explain why these watches – four of which cost more than 3 million baht, were undeclared.
On Thursday afternoon, anti-junta activist Ekachai Hongkangwan was intercepted by security officers on Rajdamoen Avenue on his way to the defense ministry, where he allegedly wanted to present Prawit a cheap wristwatch as a gesture of mocking protest. Ekachai was safely taken back to his home in Bangkok's Lat Phrao district.
He was not available for comment as of press time.