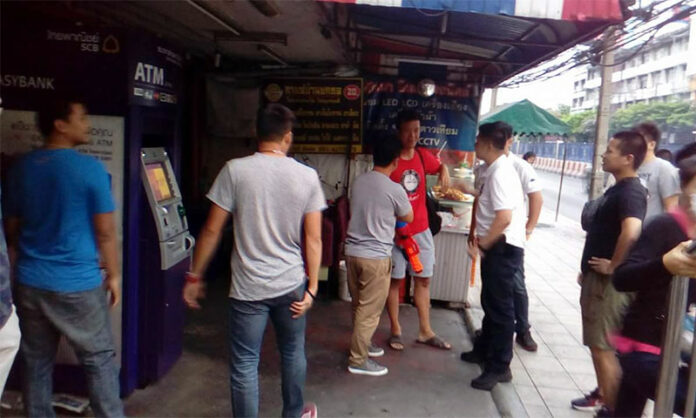 BANGKOK — Two pro-democracy activists were briefly detained without charge by police Monday morning, apparently to bar them from disturbing a holiday event at the home of the junta's scandal-tainted second-in-command.
Ekachai Hongkangwan said two vehicles and a dozen plainclothes officers came at dawn to his home in Bangkok's Lat Phrao district and put him and fellow activist Chokchai Paiboonratchata into their vehicles a day after he announced they would crash a Songkran greeting ceremony at the home of Prawit Wongsuwan.
"What does it mean when police launch such a preemptive strike?" Ekachai said by phone after being released at 11am from a police station in the Hua Mak area.
Ekkachai said he was told those in power were displeased with the idea of his going to Gen. Prawit's residence and had him apprehended despite no criminal act occurring.
Police Senior Sgt. Maj. Niphon Boonwong of the Metropolitan Police said the two were merely "invited" and had no further details. He said senior officers were in a meeting and unavailable to comment.
Ekachai, a former lese majeste prisoner, has become a political provocateur since his release, regularly goading the authorities with visible protests against Prawit, who's become an object of ridicule for a lavish collection of multi-million baht watches never declared among his assets. He insists they were all loaned by a friend.
Chokchai said unidentified police handled him roughly. He said one cop's hands pressed his neck into the seat while another officer sat on him inside a police van. It was unclear as of press time whether Chokchai would file a police complaint on the matter, but both noted that by the time they were released at 11am, Prawit's Songkran ceremony was already over.