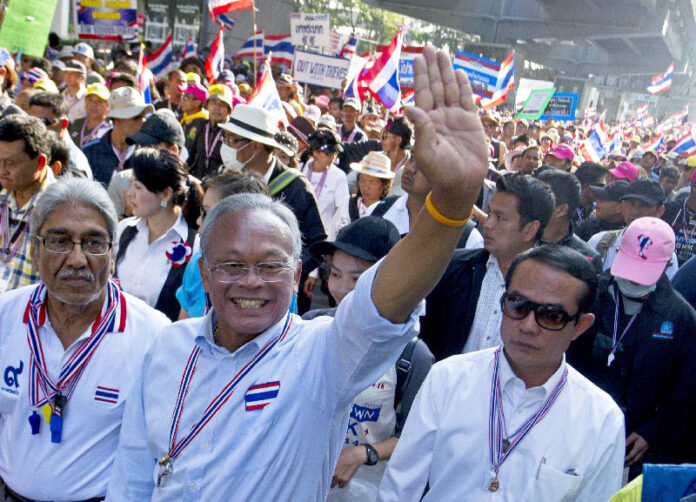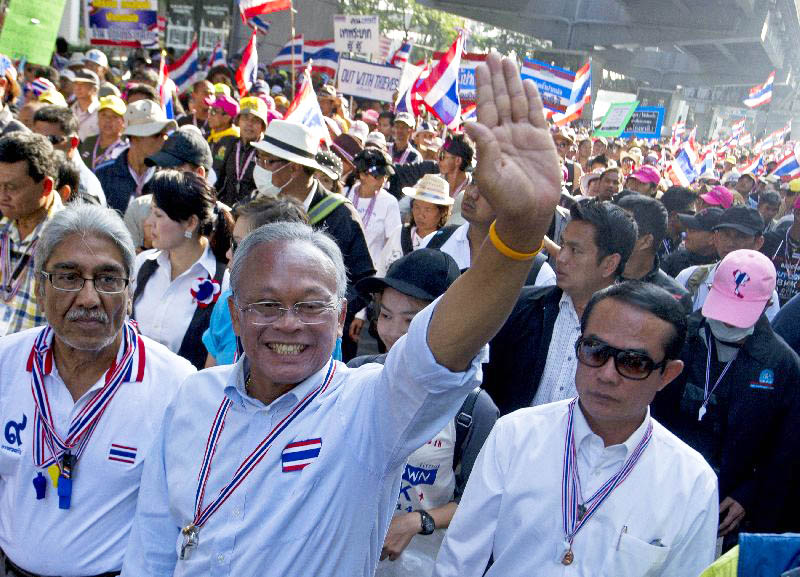 BANGKOK — A party founded by a lawyer and a younger brother of Suthep Thaugsuban would like to assure the public they are no way controlled by the conservative hard-liner.
The statement came at the same time the party's founder, lawyer Taweesak Na Takuathung, admitted to reporters his group would take "advice" from the former Democrat Party exec and plans to extend membership to the veteran politico, who vowed to quit politics for good after leading street protests that helped bring the current junta to power.
"Although I'm his lawyer, I'm not his nominee," Taweesak said. "No one can order me. I'm 75. I do not take orders from anyone."
Read: Suthep Says He's Done With Politics, Puts Kibosh on Rumors
He registered the party's name, Palang Prachachat Thai (Power of Thai People's Nation), with the Election Commission today. Taweesak said he's also planning to convene its first executive meeting at Lumpini Park on June 3.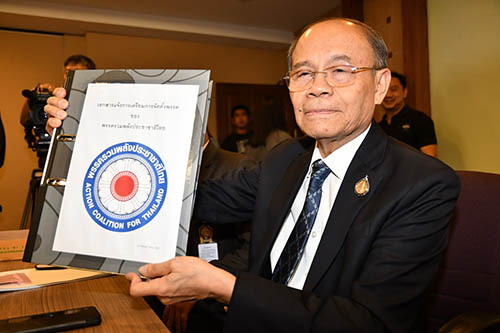 Since his return to public life in 2015, following nearly a year in the monkhood, analysts have speculated on what role Suthep will take over the hard-line, pro-establishment faction he carved out of the Democrat Party's support base during the "Bangkok Shutdown" street protests prior to the coup four years ago.
Although reports of Suthep forming a party to the run in the next election come up now and then, the 68-year-old tried to quash the rumors in February with a definitive but carefully worded statement.
"I will not run in election for a Member of Parliament seat. I do want any political office. I will not join any government with anyone. I will not be a prime minister, not a deputy prime minister, not a minister," Suthep told reporters at the time. "I will not even be an executive of any party."
Speculation is sure to return following the formation of Taweesak's party today. Its co-founders include Suthep's younger brother, Thani Thaugsuban, and ex-Yellowshirt leader Jaturan Boonbenjarat.
Suthep could not be reached for comment as of publication time. Someone who answered a phone at his charity headquarters said he was traveling.
Speaking to reporters today, Taweesak said Suthep would not be named an executive of the party but would be invited to join as a member. He said party leaders hope to court his advice in the future.
"He will only help by giving us advice. Therefore, this party doesn't belong to the PCAD, and it's not a branch of the Democrat Party, but it will truly be a people's political party," Taweesak said, referring to the People's Committee for Absolute Democracy With the King as Head of State, the protest movement also known as the People's Democratic Reform Committee.
Suthep, who had been a deputy prime minister in the government of Abhisit Vejjajiva, commanded the group up until the May 2014 coup.
Related stories: