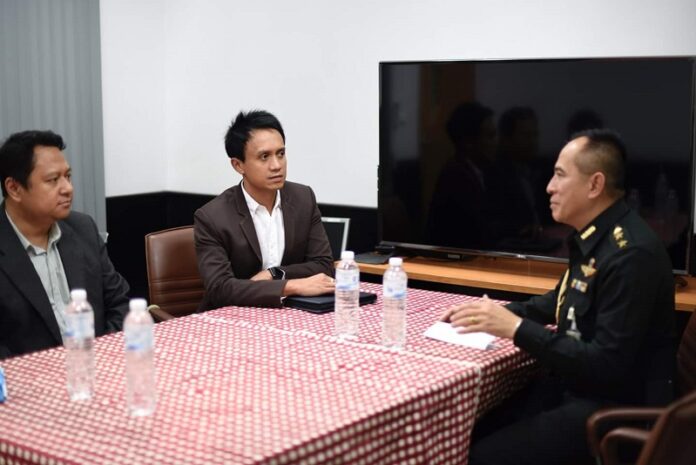 UBON RATCHATHANI — Police on Saturday visited the home of an academic to ask that he and his students refrain from engaging in protests when junta leader Gen. Prayuth Chan-ocha visits a northeastern province next week.
Police officers went to university lecturer Teerapon Anmai's home and asked him not to make any political move come Tuesday when the prime minister hosts a mobile-cabinet meeting in Ubon Ratchathani province. He was one of six politically-active academics at Ubon Ratchathani University visited this week and asked to make sure students and lecturers don't stage protests against Prayuth or the junta.
"This is harassment by soldiers and police. They are people I don't want to talk to. They visited my home even if I personally do not know them." Teerapon, who teaches communication arts, said after four low-ranking police officers visited his home. "I am a lecturer, imagine what it would be like if I was just an ordinary villager. What would I faced then?"
Teerapon – who the junta summoned to report right after the 2014 coup due to his political beliefs – said they could plant some evidence and charge him, and that he didn't know what they were thinking of doing next.
Earlier in the week, he met the province's army representative, Col. Mongkut Kaewprom, who made the same request. Teerapon claims the colonel was concerned about the security of his job if a protest occurred Tuesday.
"He asked me not to make any [political] move because he could be transferred as a result," Teerapon said, referring to a Thursday meeting with Mongkut at the university. "I told him if the country was normal we wouldn't have to meet because I am a good citizen. I said since the coup, military vehicles have been roaming the university and this looks bad."
He said the colonel then asked if there were any spots for army officers to teach about nationalism and reverence toward the monarchy, adding that he then offered to have an army band perform at the university.
Another academic Mongkut visited said he would not speak to his students.
"The implication is that they want to me to call the students for talks. This is something I won't do. It's not my duty," said Titipol Phakdeewanich, dean of political science at the university, who met the colonel twice last week.
Although he said Mongkut spoke to him politely, he said it's still a violation of human rights.
"It's like I am being pressured to say yes. I can't," he said Sunday, adding that he doesn't think protesting is a threat to national security.
Reached by phone on Sunday, Mongkut first asked if the interview was being recorded. After being told it wasn't, he said he thinks Prayuth's visit and the cabinet meeting will go smoothly without protests.
"I just went to meet and consult with him. He cooperated and personally has no issue," Mongkut said, referring to the meetings with Titipol at the university.
Mongkut said the cabinet meeting would take place at an enclosed area inside the university, where contact with students and faculty members will be limited.
"So I don't think any worrying incident will occur. I am not worried. There's nothing much really," the colonel said, trying to play down the issue.
Correction: This article was modified to show that it was police and not the army who visited Teerapon on Saturday.